Trump Impeachment, Nov 4: President Tells Republicans To Release Their Own Transcripts
President Donald Trump pushed back against the House impeachment inquiry, urging Republicans to release their own transcripts of witness depositions before House committees to counter the Democrats "manipulated ones." He called polls showing rising support for the impeachment inquiry to be "fake" and "lousy." Further, in line with his offensive-defense, he said media knew the whistleblower's name and urged for it to be revealed.
Meanwhile, the whistleblower's lawyer gave Republicans permission to submit written questions to his client to counter claims about an unfair process.
International Business Times brings to you the key developments that took place Sunday around the Congressional impeachment inquiry against Trump.
Whistleblower willing to answer written questions from Republicans
Mark Zaid, an attorney for the anonymous whistleblower, said in a series of tweets that he was willing to let Republican lawmakers submit questions to his client directly without having to go through the House Intelligence committee.
"We have offered to @DevinNunes, Ranking HPSCI Member, opportunity for Minority to submit through legal team written questions to WBer," Zaid said in his tweet.
This would offer the Republicans, who have constantly complained about the impeachment hearings being unfair, a direct channel of communication with the whistleblower.
Trump asks Republicans to release their own transcripts
President Trump suggested Sunday that the Republicans should start publishing their own transcripts from the closed door meetings, which the Democrats claim to have strengthened their impeachment probe.
In his tweets, Trump called Rep. Adam Schiff a corrupt politician who was trying to modify words of the witnesses to suit the Democrats, urging the Republicans to release their own transcripts in order to contradict Schiff's manipulated ones.
"Republicans should give their own transcripts of the interviews to contrast with Schiff's manipulated propaganda. House Republicans must have nothing to do with Shifty's rendition of those interviews. He is a proven liar, leaker & freak who is really the one who should be impeached!" Trump tweeted.
Trump calls impeachment polls fake and lousy
Trump dismissed the recent polls which showed growing support for impeachment, calling them fake and lousy.
"The CNN polls are fake. The FOX polls have always been lousy, I tell them they ought to get themselves a new pollster, but the real polls, and you look at the polls that came out this morning, people don't want anything to do with impeachment. It's a phony scam. It's a hoax," Trump told reporters.
He claimed that everyone was reading the wrong polls and that he had the real polls with him. The President, however, did not reveal any further details about these "real polls."
Recent polls have shown increasing support for Trump's impeachment. A Fox News poll said 49 percent of American people were in favor of impeaching the President.
Trump urges media to reveal whistleblower's identity
Talking to reporters Sunday in the south lawn of the White House, Trump asked the media to name the whistleblower whose allegations about his dealings with Ukraine have fueled the impeachment inquiry.
"The whistleblower gave a very inaccurate report about my phone call. My phone call was perfecto. It was totally appropriate. He gave a report — he or she, but according to the newspapers it's a he," Trump told reporters.
"They know who it is. You know who it is. You just don't want to report it. CNN knows who it is, but you don't want to report it. And you know, you would be doing the public a service if you did," he added.
Ukraine got their aid: Kellyanne Conway
Counsellor the the President Kellyanne Conway said Sunday that she did not know whether the military aid to Ukraine was used as leverage by the President to investigate political rival Joe Biden.
"Here's what's absolutely, unimpeachably true: Ukraine has that aid," Conway said on CNN's State of the Union.
"I feel comfortable saying he never mentioned 2020, quid pro quo, holding up aid, Joe Biden, his political rival," Conway said. "What the President said is … 'People are talking about Joe Biden, his son.' You're darn right they were."
"I think if you're going to do, respectfully, what Adam Schiff does, which is come out and cherry-pick the 10 seconds or 10 minutes of 10 hours worth of testimony — we have no access to the full testimony because everything's been done in the dark, in secret," Conway added. "That process has been flawed from the beginning. We cannot unscramble the egg, put the toothpaste back in the tube now."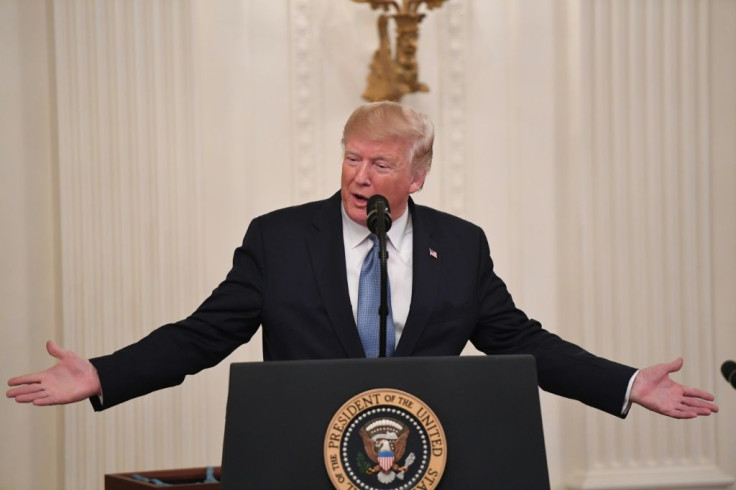 © Copyright IBTimes 2023. All rights reserved.