Trump Impeachment Poll: Millennials Want A Full Trial, Boomers Want 2020 Election To Decide
KEY POINTS
Almost 7 in 10 Gen Zers and 6 in 10 Millennials want Trump tried before the Senate
In contrast, 51 percent of Baby Boomers want the Election 2020 to decide Trump's fate
49 percent of white respondents support a full impeachment trial while 77 percent of blacks do
Seems the old adage "Like father, like son," is a misnomer when it comes to Baby Boomers and their kids, the Millennials and Generation Z, about an impeachment trial for president Donald Trump in the Senate.
This political generation gap between Baby Boomers (the oldest in their early 70s) and Millennials (23 to 38 years-old) and Gen Z (late teens to early 20s) was clearly delineated in a new poll that shows a majority of Americans want a Trump trial in the Senate.
The LX/Morning Consult poll released Thursday shows 55 percent of U.S. adults support a full Trump Senate trial. On the other hand, 45 percent said they want to let voters decide the president's fate in the November 3 election, which is the Republican viewpoint.
Most of the 45 percent were Millennials and Gen Zers, noted NBC Washington. The poll revealed the age groups most in favor of a full trial were these two young demographics. Gen Zers want a full trial for Trump by 68 percent to 32 percent. Millennials favor a full trial by a 62 percent to 38 percent margin.
On the other hand, only 49 percent of Baby Boomers want a full trial for Trump. In the slightly younger adults of Generation X (39-54), 51 percent want a full Senate trial.
Non-white Americans also want a Senate trial for Trump compared to whites. According to the poll, 77 percent of African-Americans and 69 percent of Hispanics want a Senate trial. In contrast, only 49 percent of white respondents support it.
As might be expected, the split between Democrats and Republicans was clear and wide. The survey reveals 83 percent of Democrats support a full Senate trial while 77 percent of Republicans opposing it. Independent voters favored a full trial by a 54 percent to 46 percent margin. However, only 23 percent of Republicans favored it, which reflects the stand taken by the Republican leadership in the Senate.
This new poll also serves to confirm Trump's lingering unpopularity among voters. A poll taken Dec. 13 to 14 by the nonpartisan website, The Hill, along with market research and consulting services company HarrisX revealed a 51 percent disapproval rating for Trump. This poll also showed a 49 percent approval rating. Of the 51 percent that disapproved, 38 percent said they strongly disapprove of Trump.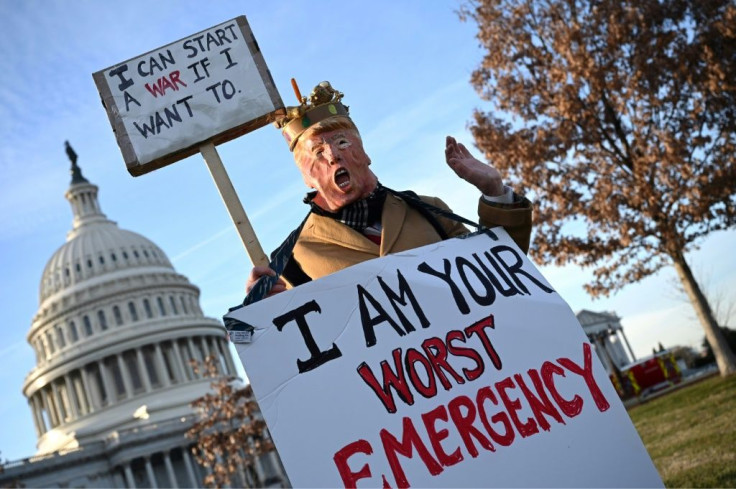 © Copyright IBTimes 2023. All rights reserved.