Trump Latest Approval Rating: How Popular Is The President With Americans?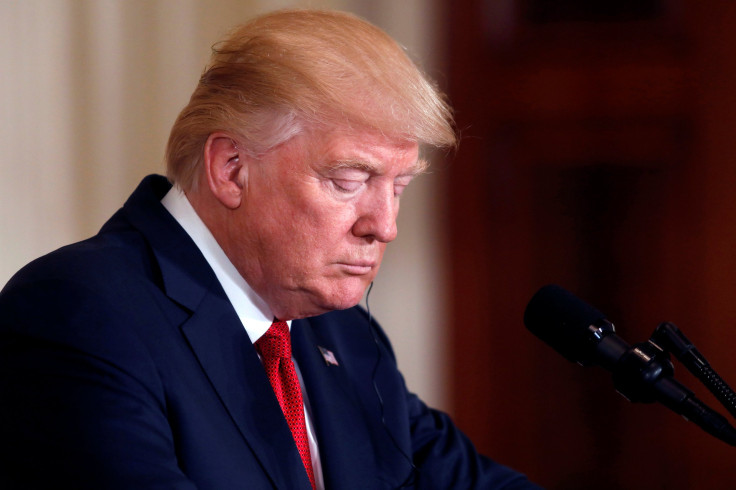 President Donald Trump was fast approaching his 100th day in office as his favorability rating continued to dip in polls. An updated calculation of the president's approval rating by FiveThirtyEight showed that only 41.9 percent of Americans approved of Trump. His disapproval rating was higher, at 51 percent.
FiveThirtyEight combined the results of multiple polls to get the results. A recent poll released by Gallup showed Trump's approval rating as slightly higher, at 43 percent, while his disapproval rating was 51 percent.
Read: How Much Do Trump's Trips To Mar-a-Lago Cost?
Trump posted a tweet Monday that cited a Rasmussen Reports poll showing his approval rating at 50 percent.
Polls have been notoriously contentious in the Trump White House, with the president repeatedly citing the inaccuracy of polls that said he would lose the election. When asked about a poll that showed Trump's approval rating at only 40 percent in February, Press Secretary Sean Spicer pointed to differentiating claims from different polls.
"I think there's also a Rasmussen poll that showed he had a 51 percent approval rating," he said.
Read: Professor Who Predicted Presidency Weighs In On Trump's Future
According to Gallup, Trump's average approval rating was the lowest the polling company had seen since starting its surveys in 1953, The Hill reported Thursday. Trump's average approval has been around 41 percent, though he bottomed out in January at 39 percent.
Trump has only a few months of the presidency under his belt, but most former presidents have fared far better in public opinion surveys during that same time. Former President Barack Obama had an average approval rating of 63 percent during his first three months in office, while former President George W. Bush averaged an approval rating of 57 percent during the same time. Gallup reported that the average approval rating of past presidents stood at around 61 percent.
© Copyright IBTimes 2023. All rights reserved.