Trump Lawyer Giuliani: I'm 'More Of A Jew' Than George Soros, 'Half Of My Friends'
KEY POINTS
Giuliani claimed it's not "anti-Semetic" to oppose George Soros because Soros isn't as Jewish as he is
Giuliani repeated claims that Soros has been manipulating Yovanovitch and the FBI
When asked if he was joking, Giuliani said he's "more Jewish than half my friends"
Jewish groups have condemned Giuliani's comments as anti-Semitic
In an interview with New York Magazine, former New York Mayor Rudy Giuliani talked about his recent trip to Ukraine where he sought to uncover evidence to bolster his and his client's – President Donald Trump – claims that Hunter Biden was involved in a criminal conspiracy there. While Giuliani talked about that, he also talked about a number of other things – including his Jewishness.
Speaking of Marie Yovanovitch, the former U.S. ambassador to Ukraine, Giuliani said George Soros had "controlled" her. Yovonavitch testified before the House during the impeachment inquiry phase that Giuliani had personally played a role in her dismissal.
Giuliani also said Soros was responsible for "all four ambassadors [in Ukraine]. And he's employing the FBI agents."
Soros is a billionaire magnate who frequently engages in philanthropy and donates to the Democratic Party. He is often the subject of right-wing conspiracy theories, which paint him as one of the masterminds behind the supposed "deep state" working to undermine both Republicans and the Trump administration. As a child, Soros survived the Holocaust in Hungary before immigrating to the United States.
Continuing on his views on Soros, Giuliani said that opposing Soros doesn't make him "anti-Semitic" because Soros is "hardly a Jew."
"I'm more of a Jew than Soros is. I probably know more about – he doesn't go to church, he doesn't go to religion – synagogue. He doesn't belong to a synagogue, he doesn't support Israel, he's an enemy of Israel. He's elected eight anarchist [district attorneys] in the United States. He's a horrible human being," Giuliani said.
Giuliani is the son of Italian immigrants and was raised Roman Catholic.
After the interview, Giuliani was asked by NBC News about his remarks on his Jewishness. Asked whether he meant them as a joke, Giuliani responded by saying that he's "more Jewish than half my friends."
Unsurprisingly, Jewish groups were quick to denounce Giuliani's strange remarks. The head of the Anti-Defamation League, Johnathan Greenblatt, tweeted that while opposing Soros wasn't anti-Semitic on its own, questioning his Jewishness was – especially when said to further push conspiracy theories that he and other wealthy Jewish people are part of an international cabal pulling the strings of power in the United States and abroad.
The former New York City mayor's comments are the latest of his increasingly outlandish claims that include pushing the notion of the supposed "deep state," Democrats' conspiracy to oust Trump by any means possible and the Bidens' alleged illegal activities in Ukraine.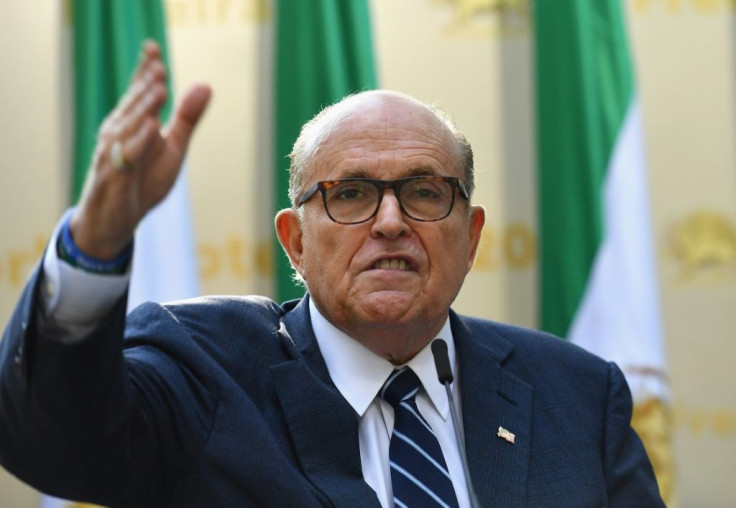 © Copyright IBTimes 2023. All rights reserved.