Trump-Loving MSNBC Hosts Have 10-Minute Meltdown Over Media Criticism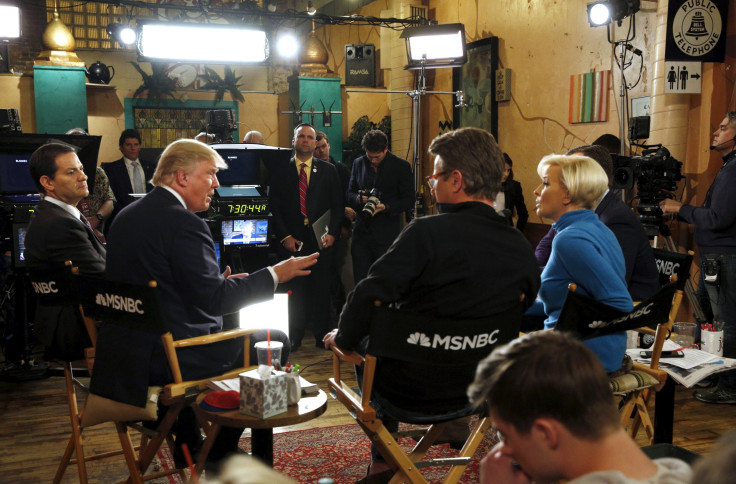 In a stormy segment of "Morning Joe" Friday, MSNBC co-hosts Joe Scarborough and Mika Brzezinski railed against media critics for scrutinizing their ties to Republican front-runner and friend of the show Donald Trump. "People have the audacity to ask, are we too close to Donald Trump," Scarborough thundered. "The answer is no, we're not."
What began as a piece about Vice President Joe Biden's take on the mogul-turned-candidate quickly veered into a defensive tirade from Scarborough about media reporters "mocking and ridiculing us" for being "too close to Donald Trump" in the past week.
Among the coverage that offended him was a report by International Business Times from Wednesday pointing out that, of all the MSNBC hosts for the job, the "Morning Joe" crew had scored an exclusive hourlong town hall with Trump despite months of softball coverage and a late-night hangout session with Trump in his hotel room during his victory in the New Hampshire primary.
The hosts said on-air they haven't been fawning over Trump but have simply been accurately predicting his rise in the Republican primary season.
"They're just angry because they've been wrong for nine months, and we've been right," Scarborough said, turning increasingly redder and louder throughout the 10-minute segment.
"There are people who cannot get their heads around this," Brzezinski chimed in. She appeared to admit they had special insight into Trump's campaign because of their closer relationship to him. "Because we've known him on previous levels professionally, we had a sense about this."
The MSNBC town hall in question, which Brzezinski and Scarbrough said was filled with "tough questions," drew criticism and ridicule from the Washington Post, Slate, Esquire and journalists and viewers commenting in real time on Twitter.
The event remained fairly light throughout, with Trump cracking jokes with both the hosts and the audience. Scarbrough did ask lots of questions (sometimes delaying audience questions) but despite his insistence that he disapproved of several of Trump's positions, at no point did he "shut down" the candidate, make him sweat or trip him up.
On Friday morning's segment, however, tension was high. The two hosts repeatedly slammed "competitors," which they later identified as journalists at CNN, as the true softball interviewers. Scarborough railed against media rivals who have "hired media reporters" who "planted this seed in people's head."
"Do your jobs," Brzezinski muttered under her breath. "Do your jobs."
© Copyright IBTimes 2023. All rights reserved.