Trump Lying About Bankruptcies? During CNN Debate, Real Estate Mogul's Financial Past Challenged By Rivals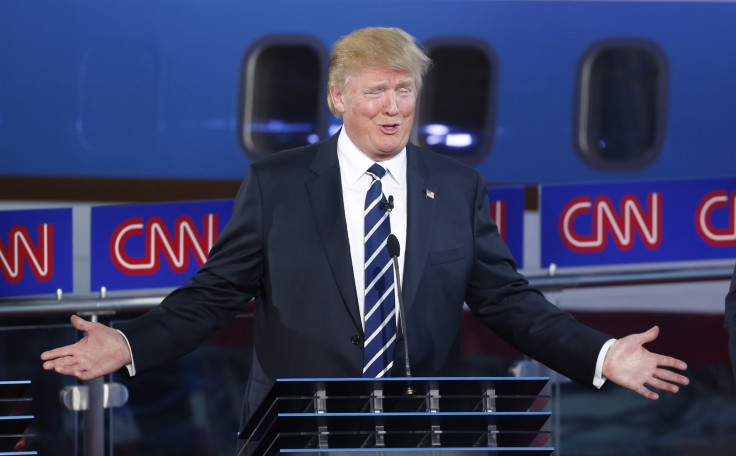 Donald Trump won't back down on his long-time assertion that he never filed for bankruptcy. Not in interviews, not on Twitter and certainly not during a live televised debate in front of tens-of-millions of Americans.
The Republican front-runner might be right technically, but while he may not have declared bankruptcy personally, he did file for his businesses multiple times. Unfortunately for Trump's preference for escapism, his four bankruptcies were held up to view during the second Republican debate Wednesday. Several candidates brought up the real estate mogul's financial past, including Hewlett-Packard CEO Carly Fiorina, who was the first to bring up his companies' financial failures.
"You ran up mountains of debt using other people's money," Fiorina told Trump. "You filed for bankruptcy four times. How can this nation trust you?"
Trump did not have a chance to defend himself before New Jersey Gov. Chris Christie jumped into the fire. 'The fact is that we don't want to hear about your careers," Christie said. "Back and forth and volleying back and forth about who did well and who did poorly. You're both successful people. Congratulations. You know who is not successful? The middle class in this country who's getting plowed over by Barack Obama and Hilary Clinton.'
Wisconsin Gov. Scott Walker would not let Trump off easy. Later in the evening, he said that Trump has put projects into bankruptcy and he can't do that to America. "We don't need an apprentice in the White House," Walker said. "We have one right now."
Court filings show that Trump has declared corporate bankruptcy four times, with the most recent time being in 2009, when his company, Trump Entertainment Resorts, declared Chapter 11 after not making a $53.1 million bond interest payment. Three other businesses, Trump Hotels and Casino Resorts and two of his Atlantic City properties, have also declared bankruptcy. Trump first filed bankruptcy in 1991 with his Taj Mahal property and then with the Trump Plaza Hotel the following year.
The real estate scion was positioned at the center of the stage Wednesday since he leads in the polls. He was joined by former Florida Gov. Jeb Bush; Ohio Gov. John Kasich; retired neurosurgeon Ben Carson; former Arkansas Gov. Mike Huckabee; Texas Sen. Ted Cruz; Florida Sen. Marco Rubio; and Kentucky Sen. Rand Paul.
Ratings in the national polls determined the candidate line-up. Only 11 of the 17 Republican candidates were invited on stage.
The network tapped Jake Tapper, CNN's chief Washington correspondent to moderate the debate alongside Dana Bash, CNN's chief political correspondent, and conservative radio host Hugh Hewitt.
Presidential Candidates | InsideGov
Moderators sourced questions from Twitter, Facebook and Instagram on topics such as foreign policy, domestic policy and politics.
The debate aired exclusively on CNN at 8 p.m. EDT Wednesday following a lower-tier debate featuring the bottom of the bunch in the polls, Louisiana Gov. Bobby Jindal, Sen. Rick Santorum, South Carolina Sen. Lindsey Graham and former New York Gov. George Pataki.
© Copyright IBTimes 2023. All rights reserved.