Trump Muslim Ban: How Did President Select Countries To Halt Immigration From?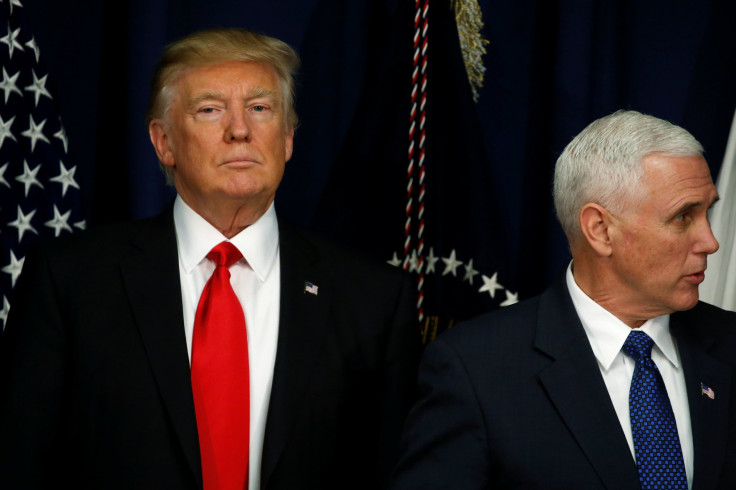 President Donald Trump was expected to sign an executive order placing a temporary ban on most refugees and a ban and a suspension on granting visas to seven majority-Muslim countries this week. Yet it remained unclear why certain countries have been selected while other nations that have been prevalent breeding grounds for terrorists have been excluded.
In addition to halting the United States' refugee program, visas will no longer be granted to those arriving from Syria, Iraq, Iran, Libya, Somalia, Sudan and Yemen, according to Reuters. Left off the list are Saudi Arabia – home of 15 of the 19 Sept. 11 hijackers – Afghanistan – where al-Qaeda and the Islamic State are active – and Pakistan – where the two perpetrators of the San Bernardino attack had their roots.
"These are the easy targets," Dr. Steven Spiegel, director of the center for Middle East Development at the University of California Los Angeles, told International Business Times. "Take Yemen, take Iraq, despite their internal turmoil, we've had viable relations and this is not going to destroy our relations, in fact some countries may be satisfied, they don't want their people running off to America, brain drain and all that. It may have a minimal impact on some countries with these governments but the real impact is that I think you're ultimately weakening your position."
Trump was said to be targeting the restrictions on countries that are "terror prone." The executive order, a draft copy of which was obtained by Huffington Post, specifically mentioned the Sept. 11 attacks when it says that "State Department policy prevented consular officers from properly scrutinizing the visa applications of several of the 19 foreign nationals who went on to murder nearly 3,000 Americans."
However, Saudi Arabia, the country from which 15 of the 19 Sept. 11 hijackers hailed, was not included in the proposed list. Saudi Arabia has regularly been accused of being a leading state-sponsor of terrorism and the country continues to be a major hotbed of terrorist activity. Indeed, the State Department has continued to warn U.S. citizens of Islamic State group activity in the country, with "multiple attacks" occurring."
Yet Saudi Arabia was also one of the recipients in the first round of arm sales under Trump. Saudi Arabia received $525 million in observation balloons, adding to the $100 billion in arms that were transferred during former President Barack Obama's administration.
Saudi Arabia is also a country where Trump has considerable business interests. During his election campaign he registered eight companies that were tied to hotel interests in the kingdom, according to report in the Washington Post.
Trump acknowledged his interests in Saudi Arabia during an August rally.
"They buy apartments from me," he said in Alabama. "They spend $40 million, $50 million. Am I supposed to dislike them? I like them very much."
Also not on the list is Lebanon, a country that the State Department has warned U.S. citizens to avoid traveling to because of "threats of terrorism." The travel warning goes on to detail that "violent extremist groups operate in Lebanon, including Hizballah, ISIL [ISIS], ANF, Hamas and the Abdullah Azzam Brigades." It was also the home of one of the Sept. 11 hijackers.
Like with Saudi Arabia, Trump also has ties to Lebanon. One of his Middle East advisers during his campaign was Walid Phares. The academic was a leading figure in the Lebanese Forces, a Christian militia, during the country's civil war between 1975 and 1990, helping train the militants in religious ideology.
Afghanistan and Pakistan were the two other countries with deep connections to terrorism not included on the list.
"Of the 98 U.S.- or U.N.-designated terrorist organizations around the globe, 20 of them are in the Af-Pak region," Gen. John W. Nicholson, the commander of American and NATO forces in Afghanistan, said recently. "This is the highest concentration of the numbers of different groups in any area in the world."
However, Trump's National Security Adviser, Michael Flynn, has cautioned of the strategic importance of Afghanistan.
"What we have to continue to do for that entire region is to reinstill confidence that we actually can help them," he said last year. "We cannot leave this region to the likes of these multiple terrorist organizations. There is too much at stake."
Omar Mateen, the gunman behind the Orlando nightclub shooting, which killed 49 people in June 2016, was born in the U.S. to Afghan parents. He claimed the deadly rampage was inspired by ISIS.
"If you're talking about Pakistan, Afghanistan, particularly Pakistan, that's a more serious enterprise," Spiegel said. "These countries have been picked I think in part because it's not too difficult in comparison with these other countries — difficult to administer, difficult in terms of relations, certainly difficult in terms of business, difficult in terms of military."
Also missing from the list was Egypt, from where another of the Sept. 11 hijackers hailed and where a terrorist attack killed 27 people at a Coptic Orthodox Cathedral last month. Trump had a phone call with Egyptian President Abdel Fattah al-Sisi on Monday.
If the focus of the visa suspension is on those countries that are homes to terrorists, it could also be questioned why Belgium is not included. Terrorists from the country have been involved in a number of attacks across Europe in recent times, including the Paris attacks.
The Department of Homeland Security was contacted for comment but had not responded at time of publication.
© Copyright IBTimes 2023. All rights reserved.