Trump Is Obese According To Physical Exam Results
The latest in Donald Trump news is the physical examination that the president underwent at the Walter Reed military hospital on Friday.
According to a White House release, the President is in good health barring the minor issue of a slight weight gain that made him "obese" from a medical point of view.
Trump, 72, now weighs 243 pounds. He gained 4 pounds extra compared to last year. As a result, Trump's body mass index, or BMI, moved to 30.4, making him clinically obese.
Technically, people with body mass index (BMI) above 30 are deemed obese, according to the National Institute of Health.
CNN's Dr. Sanjay Gupta says BMI is not a foolproof assessment of a person's health. But it raises the concern of escalating other risk factors including heart problems.
Last year, Trump's weight was 239 pounds. Considering a common form of heart disease, the President was advised to lose some weight. But the new examination has revealed the opposite happened.
Trump in good health
Dr. Sean Conley, the President's physician supervised the physical examination.
Dr. Conley's statement from the White House said the president was in good health. Interestingly, the medical report came minutes after officials announced that Trump would clamp a "national emergency" at the US-Mexico border to raise funds for the border wall.
In the release, Dr. Conley said there were no significant health problems for the President.
"There were no findings of significance or changes to report on his physical exam, including the eyes, ears, nose, mouth, teeth/gums, heart, lungs, skin, gastrointestinal, and neurologic systems," the medical bulletin said.
The medical overview took almost 4 hours and no sedation or anesthesia was administered. Altogether, 11 specialists met Trump at the Walter Reed facility.
New immunizations
Trump also received new immunizations--the Pneumovax 23 against meningitis and pneumonia, and Shingrix to guard against shingles.
The White House report also mentioned that Trump's dosage of anti-cholesterol medicine, Rosuvastatin has been hiked from 10 mg to 40mg.
The 6 footer President loves fast food and diet sodas. But Trump does not take alcohol and is a strict non-smoker.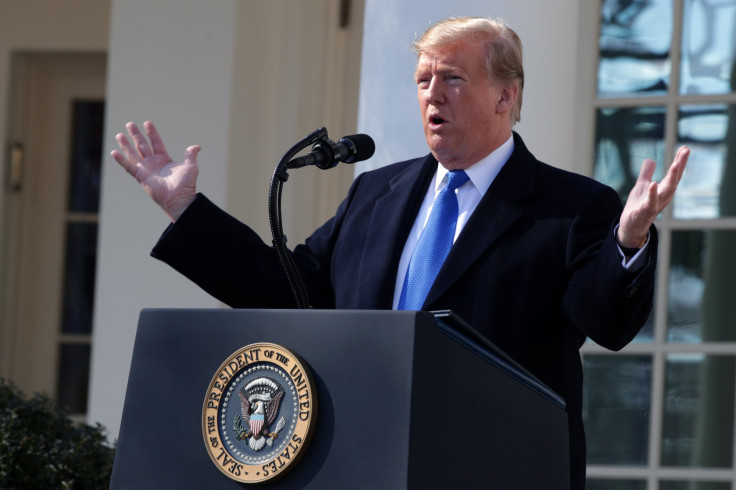 © Copyright IBTimes 2023. All rights reserved.