Trump-Russia Ties? Paul Manafort, Ex-Campaign Chief, Colluded With Russians, AP Reports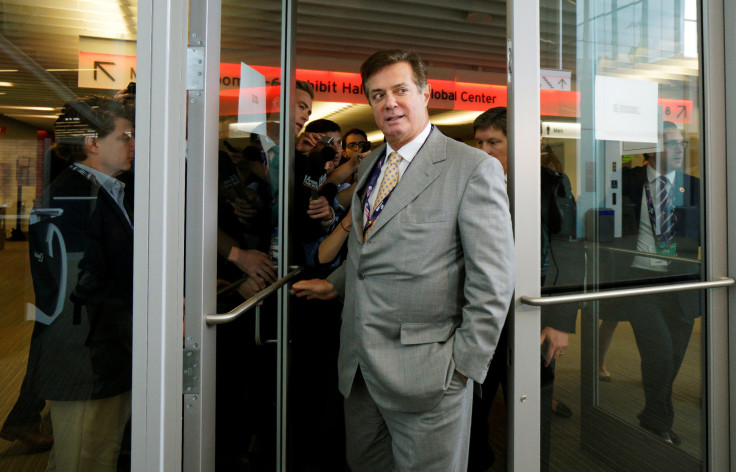 Paul Manafort, President Donald Trump's former campaign chairman, allegedly worked with Russian aluminum magnate Oleg Deripaska, a close ally of Russian President Vladimir Putin to advance their interests and allegedly proposed a political strategy to undermine anti-Russian opposition across former Soviet republics, according to an Associated Press report published Wednesday.
"We are now of the belief that this model can greatly benefit the Putin Government if employed at the correct levels with the appropriate commitment to success," Manafort wrote in a 2005 memo to Deripaska. The effort, Manafort wrote, "will be offering a great service that can re-focus, both internally and externally, the policies of the Putin government."
The confidential strategy plan was reportedly in the works as early as June 2005. Manafort eventually signed a $10 million annual contract beginning in 2006.
Manafort told Deripaska in 2005 that he was lobbying as part of his work in Ukraine "at the highest levels of the U.S. government — the White House, Capitol Hill and the State Department," according to the documents cited by the AP. He also said he had hired a "leading international law firm with close ties to President Bush to support our client's interests," without identify the firm.
According to U.S. diplomatic cables from 2006 cited by the AP, Deripaska was described as "among the 2-3 oligarchs Putin turns to on a regular basis" and "a more-or-less permanent fixture on Putin's trips abroad."
In response to the allegations by the AP, Manafort confirmed that he worked for Deripaska in various countries but added that his job is being unfairly portrayed "inappropriate or nefarious" as part of a "smear campaign."
"I worked with Oleg Deripaska almost a decade ago representing him on business and personal matters in countries where he had investments," Manafort said. "My work for Mr. Deripaska did not involve representing Russian political interests."
The revelations arrive as an FBI probe and two congressional investigations target Trump campaign advisers and people in Trump's inner circle to uncover allegations that Moscow hacked or meddled in the 2016 presidential elections.
© Copyright IBTimes 2023. All rights reserved.