Trump Says Dems 'On Vacation' As House Postpones Washington Return Amid COVID-19 Concerns
KEY POINTS
The House of Representatives was to reconvene on May 4
House Democratic leaders extended the return date due to coronavirus concerns
The Senate, however, is sticking to its May 4 return

President Donald Trump criticized the Democrat-led House of Representatives after they postponed their return to Washington, D.C., originally set for May 4, due to concerns over coronavirus.
House Majority Leader Steny Hoyer, D-Md., and Speaker Nancy Pelosi, D-Calif., decided to push back the recess further after reportedly discussing with the Capitol head doctor, Brian Monahan, who informed them that returning on their planned date would be a health risk.
"The numbers (of coronavirus cases) in the District of Columbia are still going up," Hoyer said. "The House physician's view was that there was a risk to members that was one he would not recommend taking."
Trump reacted during a White House press briefing that the Democrats are not keen on going back to work.
"They're enjoying their vacation," the president said. "You look at Nancy Pelosi eating ice cream on late-night television," Trump said, referring the Speaker revealing her quarantine stash of ice creams last week during a segment of "The Late Late Show with James Corden."
But Pelosi hit back later in the day, "He makes a big fuss about my having ice cream in my freezer … I have ice cream in my freezer. I guess it's better than having Lysol in somebody's lungs as he's suggesting." She was taking aim at Trump's remarks last week when he suggested, without any scienctific basis, injecting disinfectants like Lysol to kill the coronavirus. Trump later said he was being sarcastic after he was lambasted by health experts.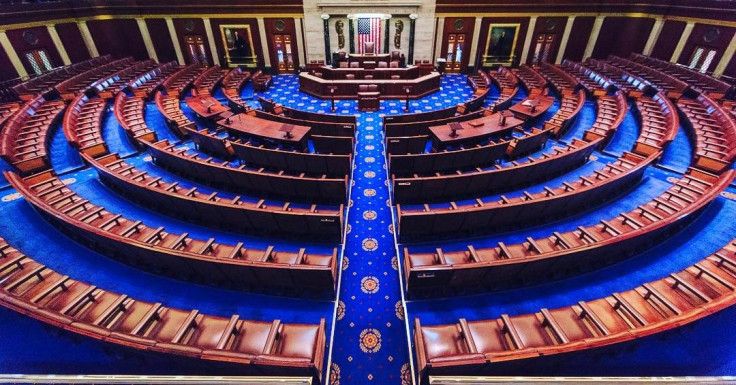 Leaders of the Democratic party received backlash from its House members after announcing plans to return May 4 to pass important legislation. Many were concerned about the risks, while some told their leaders this was a dangerous move.
Lawmakers are concerned over returning to Capitol Hill, where buffet meals are served at the cafeteria and gym facilities are accessible to anyone.
The Republican-led Senate, on the other hand, has not yet changed its plans to return to Washington on May 4. Monahan also treats and gives medical advice to the senators and their staff.
"We will modify routines in ways that are smart and safe, but we will honor our constitutional duty to the American people and conduct critical business in person," Senate Majority Leader Mitch McConnell, R-Ky, said in a statement Monday.
Sources said that during a call with other senators Tuesday, McConnell apparently reminded members of the senate that they have many things to do.

As of April 28, Washington, D.C., has 3,892 confirmed cases of coronavirus infections and 185 deaths. More than 18,000 people in the district have been tested for the virus.
© Copyright IBTimes 2023. All rights reserved.