Trump Shamed For Fundraising 'Scheme' As Hurricane Ian Batters Florida
KEY POINTS
Donald Trump asked for donations hours before Hurricane Ian made landfall in Florida
The donation plea was for his post-presidential PAC
Trump has been in Florida since the conclusion of his presidential term
Americans still remember the 2019 SharpieGate when former President Donald Trump drew on an official NOAA map to include Alabama in the trajectory of Hurricane Dorian. As Florida is grappling with Hurricane Ian, the former president is engaged in fundraising activities but not for the Sunshine State.
Ian made landfall in Florida around 3 p.m. Wednesday. Hours before the disaster's arrival, Trump sent out an email to his supporters about an unrelated situation.
"It has already been proven that so much has been wrongfully taken," Trump said in the email. "It was 'ransacked' and in a far different condition than the way I left it. So sad!" he continued.
While Ian was destroying Florida, Trump was focused on asking supporters to take a poll titled, "Official Election Year Poll" which had questions ranging from "Do you think the FBI raiding Mar-a-Lago was unconstitutional?" to "Do you believe Joe Biden is fit to run this Country?"
The questionnaire concluded with a plea seeking donation of $25 or above to benefit "Save America" and "Make America Great Again" PAC -- two of Trump's post-presidential political action committees.
The MAGA, Again! PAC raised merely $40 in August compared to $351,000 in July and zero collection in June, according to a report.
Twitter users criticized Trump for requesting money amid the flooding situation.
"Trump just won't stop at anything. He keeps coming up with schemes to take money from his clueless supporters. He has absolutely no shame," a tweet read.
"When will the rubes wake up? 'The mean ol' FBI wobbed me, send me more money!'" read another. "'Mr Rich' is asking for donations for the FBI raid. He should ask his kids for some coins," tweeted another mocking Trump.
Trump, his wife Melania, and son Barron have been in Florida since the former's term in office came to an end. They're stationed at Mar-a-Lago, a sprawling multi-acre estate in Palm Beach, owned by Trump.
The FBI raided the estate on Aug. 8 in connection with the Department of Justice's investigation into Trump's handling of classified and sensitive material. Following the raid, investigators retrieved more than 11,000 non-classified government documents, 103 documents marked classified, 54 documents marked secret, and 18 marked top secret.
They also discovered 90 empty boxes marked "classified" or "return to staff secretary/military aide," reported Financial Times.
Ruing about the raid in the email, Trump wrote, "The 4th Amendment, and much more, has been totally violated, a grave invasion of privacy."
On a related note, he previously made shocking remarks regarding the raid during a recent interview with Sean Hannity. He said his presidential rights allowed him to declassify documents just by thinking of it.
Meanwhile, Hurricane Ian has left several Floridians without power. According to the National Hurricane Center, the hurricane is generating "widespread, life-threatening catastrophic flash and urban flooding."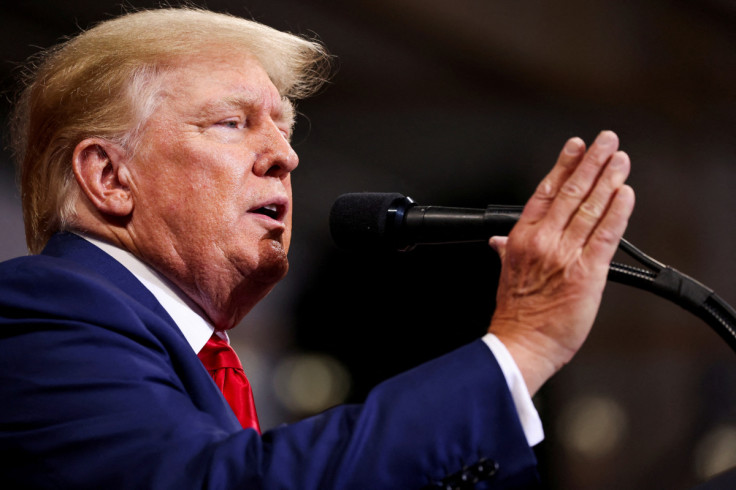 © Copyright IBTimes 2023. All rights reserved.