Trump Almost Fired Ivanka, Jared Kushner Via Tweet; Often Mocked Son-In-Law: New Book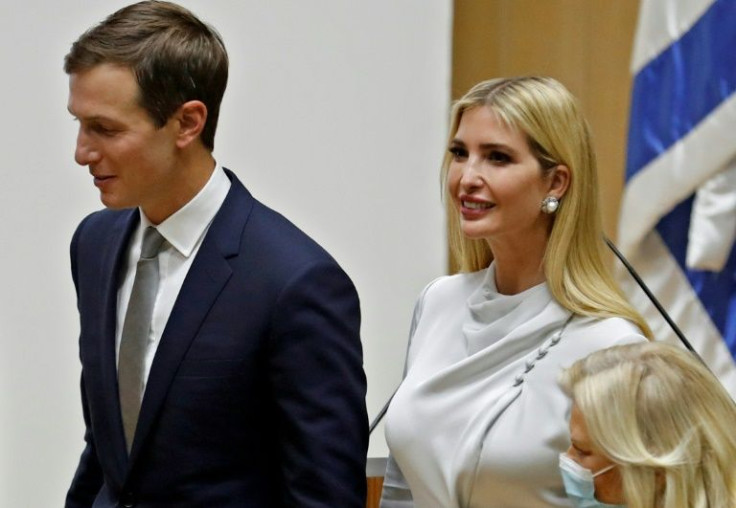 KEY POINTS
John Kelly stopped Donald Trump from announcing Ivanka and Kushner's leaving in a Twitter post
Haberman said Trump mocked Kushner after he spoke about testifying before Congress in 2017
Haberman claimed Trump raised the idea of bombing drug labs in Mexico several times
Then-President Donald Trump almost fired his eldest daughter Ivanka Trump and son-in-law Jared Kushner, both of whom served as his senior advisors in the White House, via a tweet, according to an upcoming book.
Quoting from an advanced copy of the new book "Confidence Man: The Making of Donald Trump and the Breaking of America" by New York Times reporter Maggie Haberman, CNN said Trump raised the prospect of firing Ivanka and Kushner during meetings with then-chief of staff John Kelly and then-White House counsel Don McGahn, even going so far as to suggest that he would announce their leaving in a Twitter post. The publication did not include the reason behind the attempted firing of Ivanka and Kushner.
Haberman wrote that Kelly stopped Trump from posting the tweet and urged him to speak directly with his daughter and son-in-law. However, the sacking didn't push through and both Ivanka and Kushner remained in their posts until the end of Trump's term in January 2021.
Elsewhere in the book—which comes out Oct. 4—Haberman wrote that Trump often mocked his son-in-law in private. At one point, Trump said Kushner "sounds like a child" after his son-in-law spoke publicly about testifying before Congress in 2017.
Apart from potentially firing his family members, Haberman also revealed that Trump had raised the idea of bombing drug labs in Mexico several times during his term to stop the flow of illegal substances into the U.S.
"He raised it several times, eventually asking a stunned Defense Secretary Mark Esper whether the United States could indeed bomb the labs," Haberman wrote, according to The Washington Post, which also received an advanced copy of the book.
Trump also assumed that congressional staffers of color at the White House were waiters. At one point, the former president asked Democratic staffers for Sen. Chuck Schumer, D-NY, House Speaker Nancy Pelosi, and others, to bring over the hors d'oeuvres, Haberman wrote in the book, as reported by the Rolling Stone.
Trump was later corrected by then-White House chief of staff Reince Priebus, telling the then-president that he had just addressed congressional staffers.
© Copyright IBTimes 2023. All rights reserved.