Trump Slammed For Demanding Washington Post Reporter's Firing After Apology Over Photo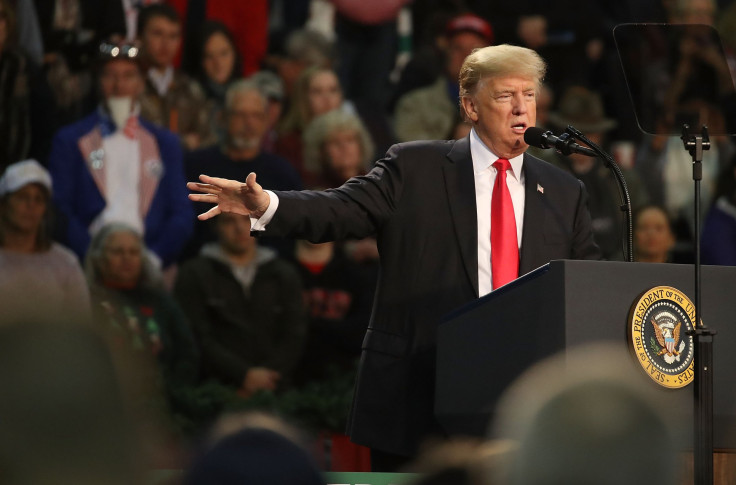 After President Donald Trump called for the firing of Washington Post reporter named Dave Weigel, Saturday, for tweeting out a misleading photo on one of his rallies, Twitter tore into the president immediately for posing a "public threat to the First Amendment."
The Post journalist Weigel, who is known to regularly post humorous takes on the news on his Twitter account, came under fire on Saturday for sharing a deceptive photo and caption regarding the crowd size at a recent Republican rally in Pensacola, Florida.
He posted the photo of a half-empty arena, in contradiction to Trump claiming that it was "packed to the rafters." The president slammed the post calling it "fake news."
"@daveweigel of the Washington Post just admitted that his picture was a FAKE (fraud?) showing an almost empty arena last night for my speech in Pensacola when, in fact, he knew the arena was packed (as shown also on T.V.). FAKE NEWS, he should be fired," Trump tweeted on Saturday night, despite the fact that Weigel had already corrected the tweet before the president's follow-up post.
The Post reporter, who previously wrote for the libertarian publication Reason magazine, admitted to his mistake and issued an apology after the president called him out on Twitter.
Weigel quickly responded to the president's tweet, pointing out that he had already deleted the photo from his Twitter account and offered an apology for the error.
"Sure thing: I apologize. I deleted the photo after @dmartosko told me I'd gotten it wrong. Was confused by the image of you walking in the bottom right corner," Weigel wrote on Twitter.
Additionally, Weigel also admitted the post was "a bad tweet" and said that it was "very fair" for Trump to attack him over it.
Weigel was also attacked by the president's fans on Twitter, with users such as "@brinjak" posting "The fake news media is truly disgusting. I recommend @washingtonpost has it's WH press passes suspended for a month every time they print a blatantly fake news story. Give their place to a more deserving media outlet," News.com.au reported.
However, many popular pundits, journalists, and commentators were disgusted and disturbed by Trump's call for Weigel's firing even after he corrected his mistake and issued an apology.
Here's what some of them said condemning or mocking the president for his continuous attack on the reporter:
"Take a moment and follow @daveweigel, a great reporter and a fantastic guide to this political age," David Fahrenthold said on Twitter.
"The president calling for a journalist to be fired seems like a public threat to the First Amendment," Kyle Griffin wrote.
Trump appeared at the venue of the rally on Friday in order to urge Alabama voters to "get out and vote" for Republican senatorial candidate Roy Moore, who was recently accused of sexual harassment of minors.
After the rally on Friday, Trump tweeted out saying, "thank you Pensacola!," noting that the arena "was packed to the rafters."
This latest incident appeared replay his inauguration crowd-size debacle, when Trump famously disputed the underwhelming crowd-size at the event. Former White house press secretary Sean Spicer said Trump had the largest ever inauguration crowd, at the time. However, National Park Service photos showed that there were far less attendees than former president Barack Obama's inauguration attracted in 2009.
© Copyright IBTimes 2023. All rights reserved.