Trump Still Likely To Win 2024 GOP Presidential Primary Despite Jan. 6 Hearings: Poll
KEY POINTS
Only 49% of Republican voters said they would support Trump if the primary is held today
25% of voters said they would back Florida Gov. Ron DeSantis
Trump remained the top choice among voters without a college degree
Former President Donald Trump is still likely to win the Republican presidential nomination in 2024 despite the recent findings presented by the House Select Committee investigating the Jan. 6, 2021, Capitol riot, according to a poll.
The recently published New York Times/Siena College poll showed nearly half of the Republican voters seeking someone other than Trump for president in 2024, with 25% supporting top Trump contender Gov. Ron DeSantis, R-Fla. However, 49% of the voters still said they would back Trump if the Republican 2024 presidential primary is held today.
Among primary voters, Trump remained the top choice among males, females and people without a college degree. However, DeSantis led with 32% support to Trump's 28% among voters with a Bachelor's degree or higher.
Other potential Republican presidential candidates named in the poll included Sen. Ted Cruz, R-Texas, with 7% of overall votes; former Vice President Mike Pence with 6% support; former ambassador to the United Nations Nikki Haley with 6% votes; and former Secretary of State Mike Pompeo with 2% of all votes.
The poll surveyed 350 respondents who said they will likely vote in the 2024 Republican primary. The poll was conducted from July 5 to 7.
One factor that could be affecting Trump's popularity among Republican voters is the evidence the House Select Committee has released, revealing his efforts to overturn President Joe Biden's victory in the 2020 election and his alleged role in inciting the deadly riot that followed months after his defeat.
On Tuesday, the committee held its seventh public hearing where it repeatedly highlighted a tweet Trump posted in December 2020 motivating his supporters, including far-right groups the Proud Boys and the Oath Keepers, to come to Washington and disrupt the transition of power.
"Big protest in D.C. on January 6th," Trump wrote in the now-deleted tweet. "Be there, will be wild!"
Rep. Stephanie Murphy, a Florida Democrat who is a member of the House Select Committee, called Trump's tweet a "call to action" and, in some cases, a "call to arms."
The panel also showed a draft tweet, one that Trump did not publish, calling for his supporters to march to the Capitol after his rally at the Ellipse. The tweet, which was obtained from the National Archives, also included a stamp that read, "President has seen."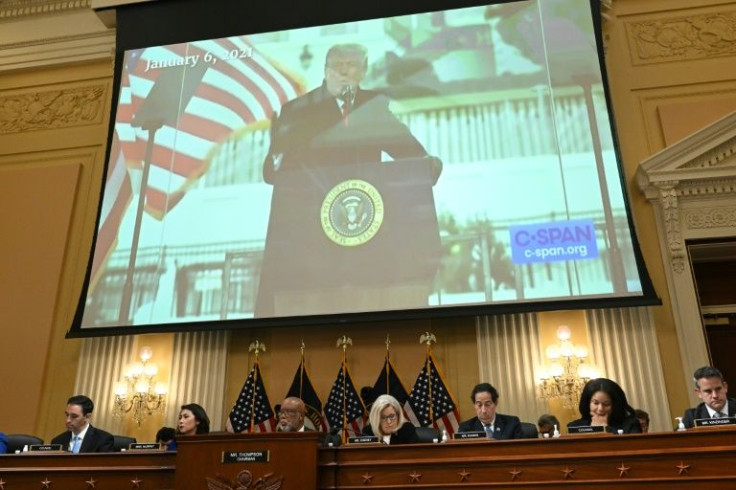 © Copyright IBTimes 2023. All rights reserved.