Trump Takes Aim At NASCAR, Bubba Wallace Over Confederate Flag And Alleged Noose
KEY POINTS
President Trump said NASCAR driver Bubba Wallace owed the other drivers an "apology" for the "noose hoax" at Alabama's Talladega Speedway
He briefly attacked NASCAR for its ban of the Confederate flag, though the White House has not commented further
NASCAR driver Tyler Reddick pushed back at Trump's statement in a since-deleted Twitter post
NASCAR and the sport's lone Black driver Bubba Wallace have become the latest targets of President Trump. On Monday, Trump took to Twitter to call out NASCAR for its decision to ban the Confederate flag at races and the alleged noose found in Wallace's team garage at Alabama's Talladega Speedway.
White House press secretary Kayleigh McEnany addressed the Wallace situation in an appearance on Fox News.
"What the president is making is a broader point that this rush to judgment on the facts before the facts are out is unacceptable," McEnany told Fox News. She also cited actor Jussie Smollet's alleged assault in 2019, which has been investigated as a false report. McEnany did not comment on Trump's stance regarding the Confederate flag.
NASCAR driver Tyler Reddick pushed back against Trump's statement in a since-deleted Twitter post.
"We don't need an apology," Reddick said. "We did what was right and we will do just fine without your support."
The noose was reportedly found on June 21 by a member of Wallace's race team as they prepared for the GEICO 500 at Talladega Speedway. The case was promptly investigated by the FBI.
Immediate suspicion was the noose was part of a hate crime targeting Wallace for speaking out after George Floyd's death, his support of the Black Lives Matter movement, and his push for NASCAR to ban the Confederate flag. NASCAR issued a subsequent statement condemning any alleged crime and several other drivers joined in a show of support for Wallace ahead of the June 22 race.
On June 23, the FBI said the noose was not part of a hate crime and had been in the garage since October 2019. It served as a pull rope for the garage and only happened to be tied as a noose.
"We appreciate the FBI's quick and thorough investigation and are thankful to learn that this was not an intentional, racist act against Bubba," NASCAR said in a press release. "We remain steadfast in our commitment to providing a welcoming and inclusive environment for all who love racing."
NASCAR President Steven Phelps then assured the organization would have acted the same, regardless of the evidence.
"I do want to make sure everyone understands that, if given the evidence that we had was delivered to us on late Saturday afternoon, we would do the same thing," Phelps said during a teleconference on June 23. "We would have done the same investigation. It was important for us to do. There is no place in our sport for this type of racism or hatred. It's not part of who we are as a sport."
This support was echoed by Wallace, who thanked NASCAR for its swift response in an interview with CNN's Don Lemon.
"I stand by Steve [Phelps, NASCAR's president]," Wallace said. "I stand by NASCAR."
Trump's final claims about NASCAR's "low ratings" were inaccurate. Saturday's Pennzoil 150 at the Brickyard in Indianapolis averaged over 1.69 million viewers on NBC, up 21% from 2019. Fox Sports executive vice president Michael Mulvihill also tweeted out Monday NASCAR's viewership has seen a bump since returning from an almost-four-month hiatus due to the coronavirus pandemic.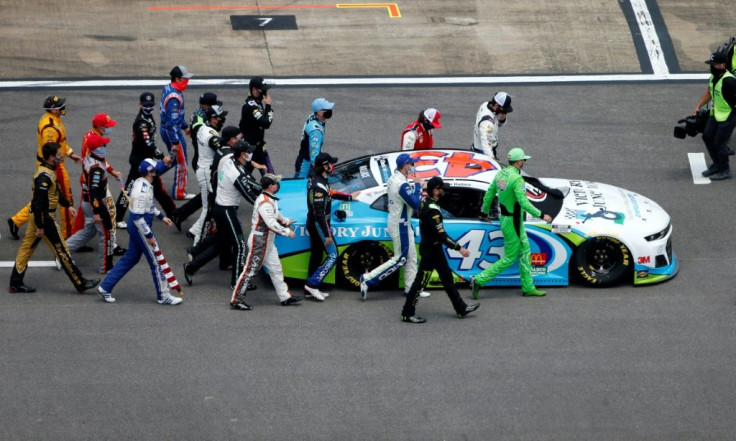 © Copyright IBTimes 2023. All rights reserved.