Trump University Judge Controversy Broken Down By Seth Meyers On 'Late Night' [VIDEO]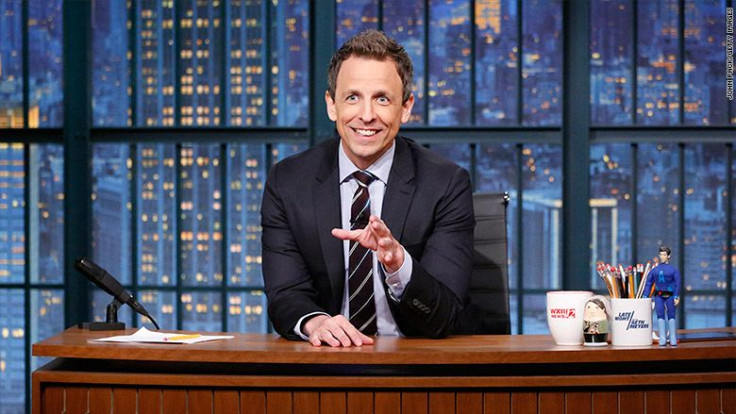 Donald Trump's attacks against the presiding judge in a fraud lawsuit against Trump University have drawn criticism from both sides of the aisle. Now they're drawing jokes from comedian Seth Meyers.
In response to a court order from Judge Gonzalo Curiel that internal documents from Trump University be released, the presumptive GOP presidential nominee alleged that Curiel's Mexican heritage means he is incapable of being impartial in the case. On Monday's episode of NBC's "Late Night with Seth Meyers," Meyers explained the fallout from Trump's latest controversy.
"Some have called Trump's attacks racist, while others have called them very racist," Meyers joked. "Now GOP leaders are squirming as they try to condemn Trump while also continuing to support him."
The comedian highlighted some of the questions facing Trump University in the lawsuits, including company documents referring to the school as a "scam," employee manuals that describe how salesmen can squeeze money out of financially strapped customers and inconsistencies in accounts of Trump's involvement overseeing the operation. Meyers suggested that Trump's personal attacks against the judge were a red herring.
"I also think there's a conflict of interest because as a judge he's naturally prejudiced against liars and con men, which is unfair to me," Meyers said, doing an impersonation of the real estate mogul.
Meyers then played a montage of various GOP leaders who endorsed Trump struggling to denounce his latest statement without contradicting or rescinding their endorsements. Meyers was hardest on Speaker of the House Paul Ryan, who had been a notable holdout in throwing his support behind Trump. Ryan finally endorsed Trump Friday, just before Trump's comments about Judge Curiel started making headlines.
"Republicans can't pretend to be shocked or offended," Meyers said. "This is who Trump was well before this latest outburst, and this is who they're lining up to support."
Many party leaders have condemned Trump's comments, and some are even calling for GOP leaders to rescind their support.
"This is the most un-American thing from a politician since Joe McCarthy," South Carolina Sen. Lindsey Graham told the New York Times. "If anybody was looking for an off-ramp, this is probably it."
Trump has downplayed the comments, though he pushed back against calls to apologize, claiming his only aim is to receive a fair trial.
© Copyright IBTimes 2023. All rights reserved.