Trump University Settlement Worth $25 Million Gets Preliminary Approval From Federal Judge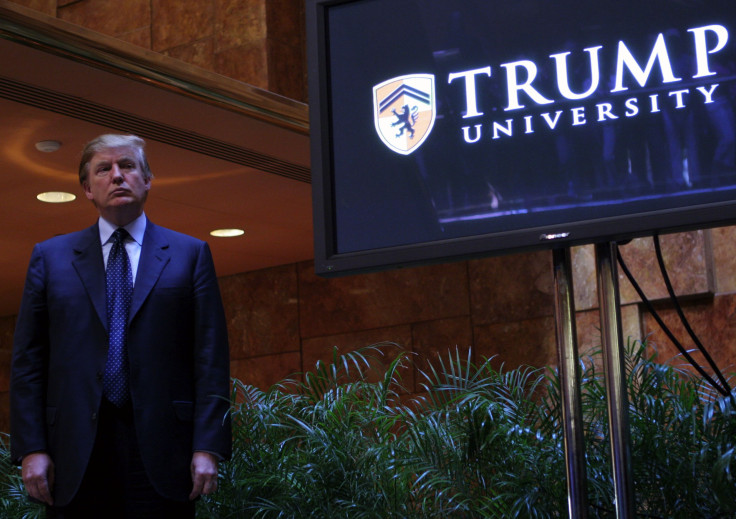 President-elect Donald Trump's $25 million settlement with former students who claimed they were defrauded while admitted into the Trump University's real estate seminar program has won preliminary court approval.
U.S. District Court Judge Gonzalo Curiel issued the order Tuesday evening and set March 30 as the date to hear any possible objections in order to determine if the settlement is "fair, reasonable, and adequate" to the former students.
The payment of the $25 million to complete the settlement must be made by Jan. 18, two days before Trump is scheduled to be sworn into office.
The deal reimburses students roughly 50 percent of the fees paid by them. Students had paid about $1,500 for a three-day seminar or up to $35,000 for a mentorship program, according to Politico. But students who have previously received refunds would either be excluded from the deal or will be given reduced payments.
The settlement also resolves another parallel fraud case filed in 2013 by New York's attorney general General Eric T. Schneiderman as $4 million of the $25 million is awarded in the other case, according to Salon.
"The victims of Trump University have waited years for today's result and I am pleased that their patience — and persistence — will be rewarded by this $25 million settlement," Schneiderman said after reacting to the news of the settlement, according to FoxNews.
Former class members had alleged in their lawsuits that the program was marketed "deceptively." Trump himself had revealed in a deposition that the assertion that he hand-picked the teaching staff seen in promotional material was false, according to the New York Times.
During a Republican presidential debate in March, Trump famously declared that "I don't settle cases. I don't do it because that's why I don't get sued very often, because I don't settle, unlike a lot of other people."
When the settlement was announced in November, Trump tweeted the following:
The soon to be 45th president of American also recently shot off a tweet regarding the lawsuit.
© Copyright IBTimes 2023. All rights reserved.
FOLLOW MORE IBT NEWS ON THE BELOW CHANNELS