Trump Whistleblower Identified: Don Jr. Defends Self On Twitter After Naming Ukraine Call Witness
The revelation by presidential son Donald Trump Jr. of the alleged identity of the whistleblower that triggered the Ukraine scandal investigation isn't criminal or unlawful and won't land the presidential son in legal hot water unless something untoward happens to this person.
This depressing fact reveals the most serious flaw of the so-called "Intelligence Community Whistleblower Protection Act of 1998."
This law bans retaliation against an employee for revealing perceived wrongdoing. It requires the U.S. inspector general to keep the whistleblower's name secret. It does not, however, stop a member of Congress, the president or anyone else for that matter from identifying a whistleblower.
The law will now be put to the test with Don Jr. outing the name of the person he claims is the whistleblower in a tweet on Wednesday.
In this tweet still online, Don Jr. said this person he claims is the whistleblower worked closely with "anti-Trump dossier hoaxer" Christopher Steele. A former intelligence officer with the British Secret Intelligence Service (or MI6), Steele wrote a dossier claiming Russia collected a file of compromising information on Trump.
Trump and his supporters still say the U.S. Intelligence Community's (USIC) probes into Russian interference in the 2016 election were ignited by Steele's report.
On the other hand, the House Intelligence Committee (then under Republican control) concluded the probe was triggered based on information provided by Trump adviser, George Papadopoulos. The committee reached this conclusion in April 2018.
Don Jr. defended his revealing the identity of the purported whistleblower, saying it was the fault of The New York Times.
He tweeted, "PS: Maybe Real Clear Politics & others wouldn't have been able to ID the alleged whistleblower if the NY Times didn't out that he was a CIA official detailed to the WH? The media is full of shit with their faux outrage over me tweeting something already in the public domain!"
RealClearPolitics (RCP) is a Chicago-based political news and polling data aggregator. It was the investigative journalism website RealClearInvestigations, however, that's credited with being the first to reveal the identity of the allleged whistleblower.
Don Jr. says he simply retweeted this information. One of his two tweets about the identity of the whistleblower linked to a Breitbart news story hinting this person is pro-Democrat and anti-Trump.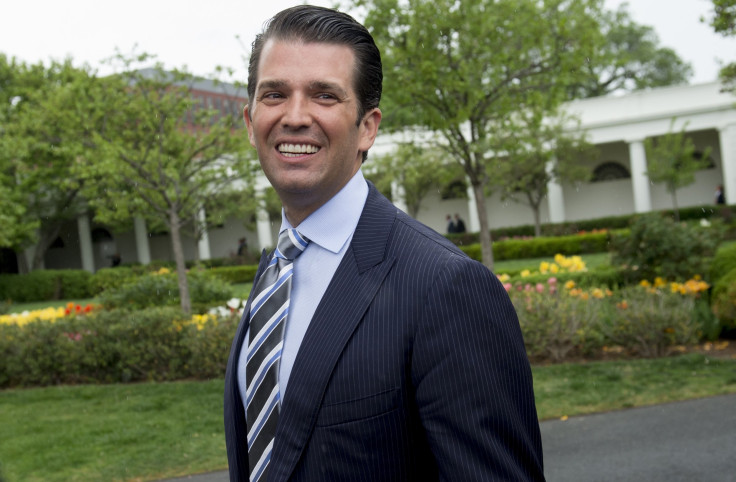 © Copyright IBTimes 2023. All rights reserved.