Trump White House 'Destroyed Any Cohesion' During COVID-19 Response, Dr. Birx Says
Dr. Deborah Birx, the White House COVID-19 response coordinator under former President Donald Trump, stated that her former boss and members of his administration "destroyed any cohesion" when it came to their pandemic response, in new testimony before the House Select Subcommittee on the Coronavirus Crisis Thursday.
In the testimony, Birx clarified that the former President was not the only culprit, and indicated he had surrounded himself with people who fed into the idea that they could work to contain the virus.
"It wasn't just the president, many of our leaders were using words like 'we could contain'," Birx told the committee. "You cannot contain a virus that cannot be seen . . . and it wasn't being seen because we weren't testing."
Birx also pointed to a moment from Trump's press conference on April 23, 2020, when he suggested that people should inject themselves with disinfectant to treat COVID-19.
That "illustrates clearly that people were communicating with the President dangerous ideas," she said. "These were coming into the White House on a daily basis from different individuals and I wasn't there for a majority of those discussions."
She spent much of her testimony focusing on Dr. Scott Atlas, who promoted the idea that letting COVID spread in the U.S. population would be a good thing. His presence undermined the U.S. pandemic response and jeopardized public health, Birx confirmed. Atlas also suggested slowing down or stopping testing efforts ahead of the 2020 election.
She said his actions, and the actions of others, "certainly destroyed any cohesion in the response in the White House itself," by promoting the idea that "anything could be right and nothing was absolutely right."
However, Birx pointed out that most of the science supports lockdowns, masks, and vaccination campaigns as effective responses to pandemics.
"When you no longer agree on what is actually happening in the country and what needs to be done, and there's not consensus on that, then you lose the ability to execute in the maximum efficient and effective way," she added.
She estimated that if the Trump White House directed an optimal response to COVID-19 at the beginning of the pandemic, 2020-2021, it is possible that 130,000 more people would still be alive.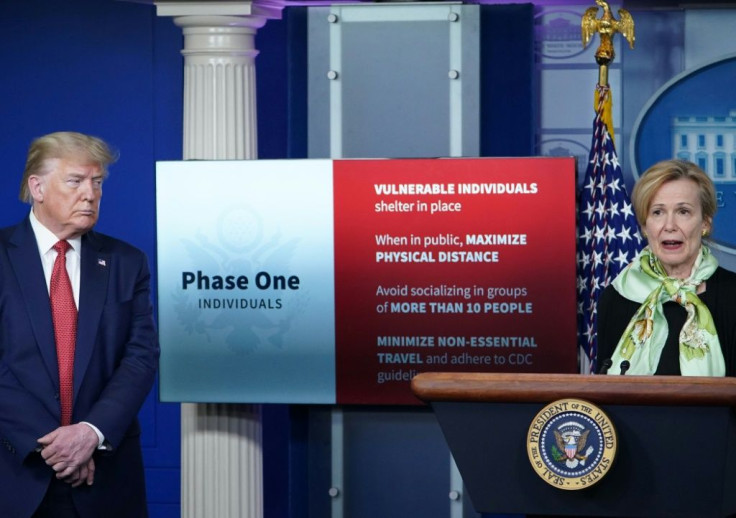 © Copyright IBTimes 2023. All rights reserved.