Trump's Budget 2017: UN, State Department Funds Slashed, Obamacare Repealed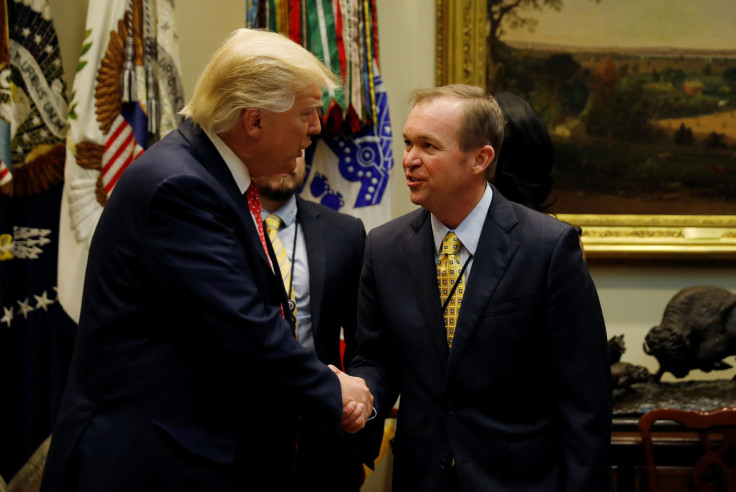 In an already controversial budget proposal scheduled to be unveiled Thursday, President Donald Trump has told the State Department to cut more than 50 percent of funding to United Nations programs. The budget will likely see a 37 percent cut to the State Department and U.S. Agency for International Development budgets, Foreign Policy reported.
Last week, the Office of Management and Budget (OMB) had prepared a draft plan that indicated a considerable percentage of budget cuts for public housing, Coast Guard, the Federal Emergency Management Agency (FEMA) and Transportation Security Administration (TSA).
In an analysis, the nonpartisan Congressional Budget Office said Monday that a Republican bill to replace Obamacare would lead to 14 million fewer Americans with health insurance by 2018 and 24 million by 2026. The Republican president is already facing an intraparty revolt over proposed legislation to replace Obamacare and the release of the budget could open another fight among Republicans who control both houses of Congress.
Read: New Budget Draft Proposes Cuts In Funds For Coast Guard, FEMA And TSA
Trump wants to boost military spending by $54 billion and is seeking equivalent cuts in nondefense discretionary programs, according to Reuters.
The U.S. spends about $10 billion annually on the U.N., and the reduction in funds could have a big impact on the peacekeeping missions, the U.N. development program and Unicef, which are funded by the State's Bureau of International Organization Affairs, according to Foreign Policy.
Richard Gowan, a U.N. expert at the European Council on Foreign Relations, said the alterations would spark "chaos" if true.
"Cutting the U.S. contribution would leave a gaping hole that other big donors would struggle to fill. Multiply that across other humanitarian agencies, like the World Food Programme, and you are basically talking about the breakdown of the international humanitarian system as we know it," he said.
Since becoming the president, Trump has vowed to increase the financial support for the U.S. military before unveiling the budget.
© Copyright IBTimes 2023. All rights reserved.