At Trump's Inauguration, High School Marching Bands Celebrate The Office, Not The President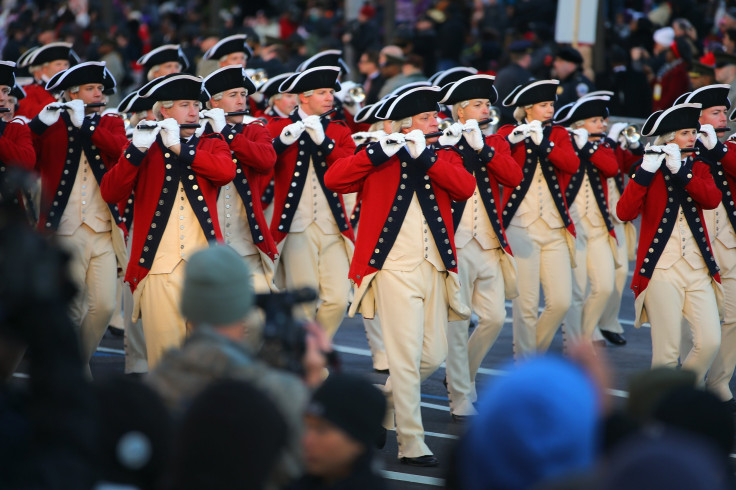 When the students representing the West Monroe Rebels are marching en masse down Pennsylvania Avenue in Friday's inaugural parade, with the Washington, D.C. wind blowing in their faces and thousands of people cheering from the sidelines, their minds will be on the performance — not politics.
They may be technically playing to honor Donald Trump, one of the most divisive presidents in American history, but he's not the reason they made the 1,000-mile, $1,000 trip to the country's capital from West Monroe, Louisiana. They're there for the prestige and the experience.
"We march in honor and celebration and in respect of the office and of the process of the peaceful transference of power," said band director Robert Freeman. "That's what we're doing. We're not performing, not marching in support of any one human being."
Musicians across the country have been denouncing the president-elect and his controversial views ever since Trump's surprise November victory over Democrat Hillary Clinton. Artists like Elton John, Celine Dion and KISS rejected invitations to take part in Trump's inaugural festivities in protest of his inflammatory rhetoric, conservative stances and hostile actions. Despite Trump's insistence that he wanted "the people" at his swearing-in, not celebrities, the internet couldn't help but draw comparisons with President Barack Obama's star-studded celebrations that drew Stevie Wonder and Beyonce.
But while A-listers scorned Inauguration Day, school bands have embraced it. The lineup for Trump's inaugural parade includes 15 ensembles from college or high school, and they argue parents, alumni and spectators — some of whom have started petitions urging them to skip the event in protest — shouldn't conflate their participation with endorsement.
"These students are 14 and 15 and 16 and 17 years old. To somehow pin upon them some political decision or the support of some ideology would be disingenuous and would be wrong," Freeman said. "Those students couldn't cast a vote if they wanted to."
The incoming president-elect has enjoyed an inaugural parade in his honor since 1789, when George Washington traveled alongside a militia from Mount Vernon, Virginia, to New York City for his swearing-in, according to the Senate's Joint Congressional Committee on Inaugural Ceremonies website. Thomas Jefferson's second inauguration was the first to feature music — the Marine Band played his 1805 parade — and the tradition was cemented by 1841, when college students and bands marched to welcome President William Henry Harrison.
As such, scoring an invitation to inauguration has become a career goal for many high school bands. Music groups are constantly invited to play at football games and local events, but the rarity and prominence of the inaugural parade sets it apart. Participation is a status symbol, cause for local newspaper features and classroom plaques.
"Only the best are invited to these kinds of things," said Oliver Boone, executive director of the High School Band Directors National Association. "You get a lot of mileage out of that because they can always say, 'In 200-whatever we performed for the president of the United States.' That's, from a marketing standpoint alone of promoting your program, something that's quite significant."
Because of this, high school bands often plan their inauguration applications months in advance — long before Election Day results are counted.
Applications for Trump's inaugural parade opened Nov. 9 and had a Nov. 28 deadline (it was later extended to Dec. 5). But Dewayne Dove, the band director at Russellville High School in Russellville, Arkansas, said he's been planning on throwing his shako into the metaphorical ring since last spring when the district made its academic calendar. At that point, he pointed out, neither political party had even selected its nominee.
The Russellville band performed in the inaugural parades in 1977 and 1997, kicking off a tradition of participating every 20 years. Heading to D.C. this year was the next step in the pattern.
"It had nothing to do with who was running, had nothing to do with who won. It had everything to do with being a part of history," Dove said.
The applications are funneled every four years through the Joint Task Force-National Capital Region, the group that helps oversee presidential inaugurations. They require information on how many students a band has, what their spacing is like, what instruments they play and what colors their uniforms are. Band directors have to submit videos of their group performing in a halftime show or parade and secure letters of recommendation from local members of Congress.
The process is extremely competitive, which makes getting an invitation even sweeter.
Dove said when he told his students they'd been chosen for the parade, they were "more than ecstatic" and immediately began texting their friends.
"The Facebook post that I put out that said we'd been selected reached 32,915 people," Dove said. "The biggest post we had prior to that had only touched a little over 11,000."
Dove said his community has been supportive, even helping the band boosters raise the $150,000 needed to fund the school's trip to inauguration.
Not everyone has enjoyed that reception.
The bands selected for Trump's inaugural parade mostly come from states he won — Alabama, Florida and Louisiana among them. But after the parade lineup was released Dec. 30, alumni and concerned voters immediately began denouncing their schools' participation on social media. Some did more than complain — they asked their alma maters to boycott inauguration for Trump, who has been accused of sexual assault, proposed creating a registry of Muslims and made misogynistic comments during his campaign.
A Change.org petition requesting New York's Marist College's marching band skip the parade garnered more than 3,000 signatures, as did one asking the same of the University of Tennessee.
"As residents of Tennessee, we believe that the attendance at the upcoming inauguration of a band representing the state of Tennessee would condone this behavior," the petition read. "As alumni, we believe that no university should risk its reputation and credibility by welcoming such ignorance and celebrating a man like Trump."
Bob Scallan, the booster president of the Palmetto Ridge High School band in Palmetto, Florida, said he received letters in the mail from as far away as New York from people chastising them for planning to go to inauguration. Some included "very explicit language" as people "went very in-depth on their thoughts on why we should not be going," Scallan said.
That reaction was much different than the one Scallan was seeing on the ground in the Sunshine State. Out of 235 students in America's Band, only 20 said they didn't want to go to D.C. for the parade. Scallan said he didn't ask why they wanted to skip.
Scallan, a band parent who also teaches at the school, said flatly the band wasn't performing in the parade to support Trump. They were going to support the office of the president. He hopes it's also a learning experience for the teens, many of whom won't go to the Capitol again in their lifetime.
"From an instructional point of view, these kids read about history every day in their class, and it's difficult sometimes to make that an interesting topic," Scallan added. "This is an opportunity for them to make history and be a part of history and learn outside of a front and back cover of a textbook."
That's what Boone, of the high school band directors association, tried to do when he took his students from Kendrick High School in Columbus, Georgia to perform in Bill Clinton's second inaugural parade in 1997. He led the 314 musicians around to the national monuments so they could get the full D.C. experience, but the moment that stands out most to him two decades later is one that happened right before the parade.
The band was last in the lineup, which meant they had to wait in the holding area for four hours. It was 30 degrees — Boone recalled even the Potomac River was frozen over — but he and the students weren't shivering.
"Nobody was cold. We were so excited," Boone said. "It was wonderful."
© Copyright IBTimes 2023. All rights reserved.