Trump's Potential Cabinet: Will Rudy Giuliani Be Secretary Of State? Former Mayor Reported Leading Candidate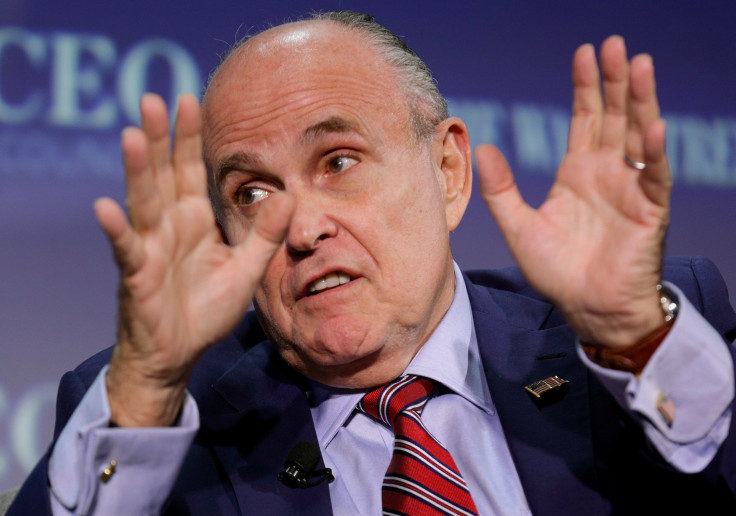 Former New York Mayor Rudy Giuliani reportedly is the front-runner to be Donald Trump's secretary of state.
Giuliani, who was one of Trump's campaign surrogates and a strong defender of the real estate mogul, was competing with former U.N. Ambassador John Bolton for the job, the Wall Street Journal reported Monday. Other names mentioned for the post include Sen. Bob Corker, R-Tenn., Sen. Jeff Sessions, R-Ala., and former House Speaker Newt Gingrich.
The Associated Press said Giuliani is the favorite.
The AP, quoting a senior Trump official, said the job is Giuliani's if he wants it.
With vice president-elect Mike Pence at the head of Trump's transition team, filling administration posts is expected to quicken, the Journal said.
The New York Post said Giuliani has expressed interest in the job privately but downplayed any role he might play in the new administration in an interview Sunday on ABC's "This Week."
Giuliani also has been mentioned as a possible candidate for attorney general and has said no one "knows the Justice Department better than me."
Giuliani is in private law practice and travels the world to advise foreign governments on security issues.
Giuliani was mayor of New York when terrorists flew planes into the World Trade Center towers, killing 2,752 people, and gained national acclaim for the way he handled the calamity. He was first elected in 1993 and served two terms, during which he focused on reducing serious crime and earning nearly as many enemies as admirers. Racial profiling became an essential tool for police who employed a stop-and-frisk policy that eventually was declared unconstitutional.
The Sept. 11, 2001, attacks restored Giuliani's popularity as he coordinated rescue efforts credited with saving some 20,000 lives.
"Tomorrow New York is going to be here," Giuliani said as he tried to reassure a shaken city. "And we're going to rebuild, and we're going to be stronger than we were before. ... I want the people of New York to be an example to the rest of the country, and the rest of the world, that terrorism can't stop us."
Giuliani was born in Brooklyn on May 28, 1944, into a large family made up mostly of police officers and firefighters. His father, Harold, worked for his brother's loan sharking business and was determined to keep his son away from the mob.
After graduating from New York University Law School, Giuliani clerked for a federal judge and later moved to Washington to work for the U.S. attorney's office. When he was 29, he was put in charge of police corruption cases.
Giuliani moved into private practice in 1977, and in 1981 returned to Washington to serve as associate attorney general, the No. 3 job at the Justice Department. Two years later, he was appointed U.S. attorney in Manhattan where he amassed 4,152 convictions in six years.
Giuliani ran for the Republican nomination for president in 2008 but started campaigning too late, waiting until the Florida primary because of the large contingent of New York retirees in the state. He finished a distant third.
Giuliani, like Trump, has been married three times. His current wife is Judith Nathan.
Giuliani is an outspoken supporter of Israel and expelled Palestine Liberation Organization leader Yasser Arafat from a U.N. concert at Lincoln Center in 1995.
© Copyright IBTimes 2023. All rights reserved.