Twin Towers Costume: UK Teens Amber Langford And Annie Collinge Dress As North And South Tower After 9/11 Attack [PHOTO]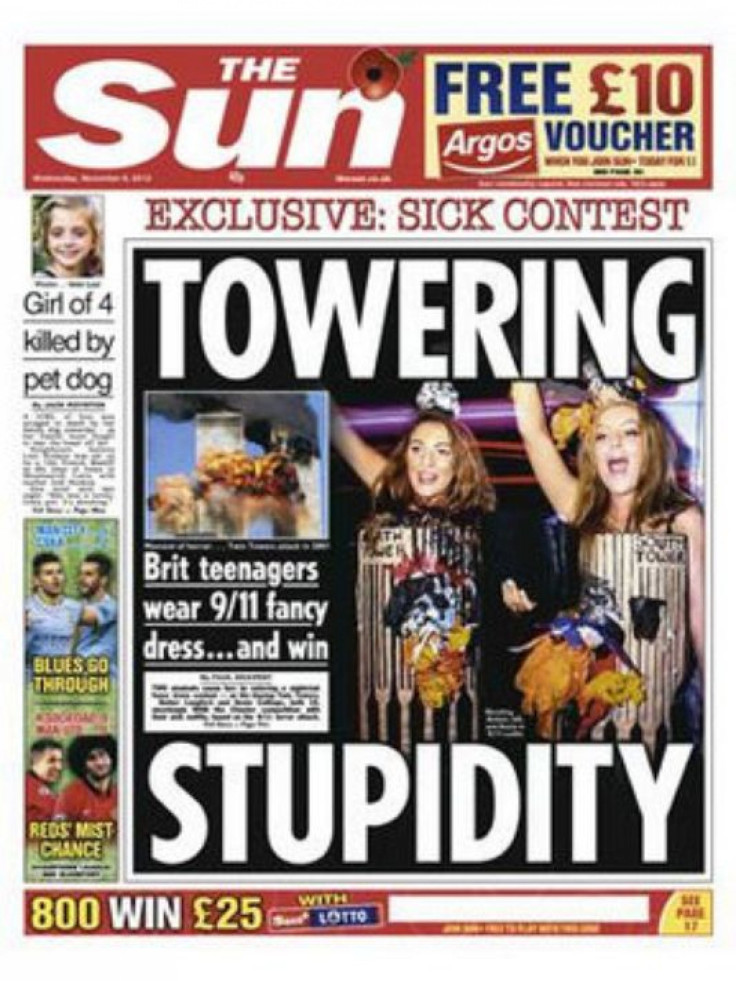 The Halloween-costume controversies keep coming. First it was Julianne Hough wearing "blackface." Then it was a Michigan teen who received death and rape threats and lost her job for dressing as a Boston Marathon bombing victim. And now two British teens are under fire for using another deadly U.S. disaster as inspiration for their costumes.
University of Chester students Amber Langford and Annie Collinge dressed as the North and South Towers for their Halloween costume, depicting planes crashing into the World Trade Center on 9/11. Langford and Collinge, both 19, wore American flags on their heads and had fire and smoke coming out of their costumes.
Worst of all, according to the Mirror, they won the Halloween-costume contest at Rosie's nightclub in Chester, Cheshire, England, scoring £150, or about $242.
Photos of Amber and Annie in their costumes went viral overnight on Tuesday, with many lambasting the teens for the offensive idea. The teens' photo has even been all over every U.K. newspaper and tabloid, including the Sun, whose Wednesday front-page headline was "TOWERING STUPIDITY."
The students have apologized, but that might not be enough.
"We never meant to be offensive, but we apologize if any offense was caused," they said in a statement to the Sun. "The idea was to depict a modern-day horror that happened in our lifetime and was not intended as a joke."
The University of Chester, where the girls attend college, said in a statement: "We utterly condemn the appalling photos. Both organisations have begun an urgent investigation with a view to taking the necessary action."
Even the bar that gave the girls the costume prize, Rosie's, has issued an apology and may ask for the money back.
"We are extremely concerned that an award of vouchers was made to two young women who were dressed in a distasteful and offensive manner," a Stonegate Pub Company spokesperson said. "There was a serious error of judgement made on the evening by a contracted DJ to award such a prize, and we apologise to anybody who may have been upset or offended by this. A full investigation by the company is taking place."
But Langford will also be in deep trouble when she goes home. Her father, Martin Langford, a retired jet pilot, said he's going to have a "little chat" with his daughter for the offensive garb. "I didn't know anything about it, but I'm not happy about it," he told the Mirror. "She knows I'm a pilot and that's not cool at all."
© Copyright IBTimes 2023. All rights reserved.