Twitter Criticizes Nikki Haley For 4th Of July North Korea Tweet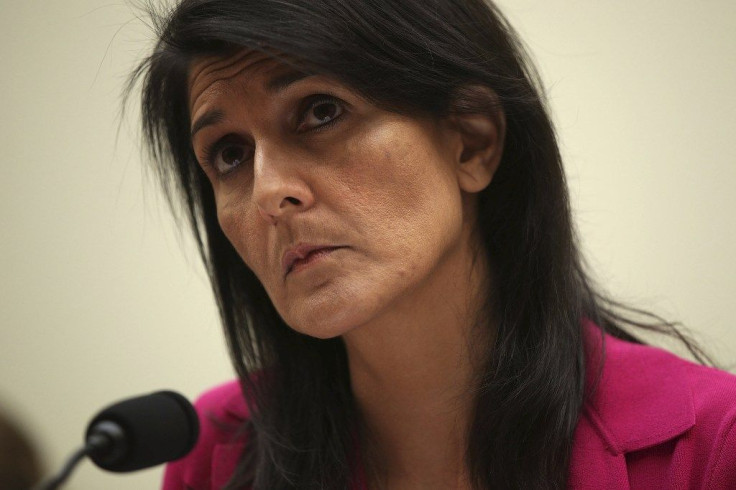 Twitter users criticized the United States Ambassador to the United Nations, Nikki Haley, after she thanked North Korea on Tuesday, in a sarcastic remark, for keeping her occupied with meetings on the Fourth of July holiday. Haley's remark in a tweet posted on her account came as a response to the reclusive nation's claims of successfully testing its first intercontinental ballistic missile (ICBM) earlier in the day.
Several Twitter users pointed out Haley was not the only one working on the Fourth of July, and many others were unable to enjoy the holiday with their families and friends.
Read: Russian MP Slams Nikki Haley's Comments On Removing Assad From Power In Syria
Haley also tweeted the U.S., Japan and South Korea called for an open emergency meeting of the U.N. Security Council over the North's ICBM launch. According to CNN, the meeting is likely to happen Wednesday.
North Korea's ICBM Hwasong-14 reportedly flew over 578 miles and reached an altitude of more than 1,741 miles before falling into the Sea of Japan. The U.S. and South Korea had initially said the projectile was an intermediate range ballistic missile. However, Pyongyang claimed otherwise, and Secretary of State Rex Tillerson confirmed in a statement it was indeed an ICBM.
Haley tweeted Tillerson's statement condemning North Korea's latest test. "Testing an ICBM represents a new escalation of the threat to the United States, our allies and partners, the region, and the world," Tillerson said in the statement.
"Global action is required to stop a global threat. Any country that hosts North Korean guest workers, provides any economic or military benefits, or fails to fully implement UN Security Council resolutions is aiding and abetting a dangerous regime," he said, calling for the denuclearization of the Korean Peninsula. He further stated the U.S. "will never accept a nuclear-armed North Korea."
After Tuesday's launch, President Donald Trump also took to Twitter to criticize the North and its leader. "North Korea has just launched another missile. Does this guy have anything better to do with his life? Hard to believe that South Korea and Japan will put up with this much longer. Perhaps China will put a heavy move on North Korea and end this nonsense once and for all!"
North Korea's official Korean Central News Agency reported Wednesday the country's leader Kim Jong Un told "officials, scientists and technicians that the U.S. would be displeased to witness the DPRK's strategic option as it was given a package of gifts incurring its disfavor by the DPRK [Democratic People's Republic of Korea] on its Independence Day." He called on them to frequently send big and small gift packages to the Yankees so that they would not feel weary.
Read: US Will Not Allow Palestinian Authority Official To Hold Top UN Post, Nikki Haley Says
"He stressed that the DPRK would neither put its nukes and ballistic rockets on the table of negotiations in any case nor flinch even an inch from the road of bolstering the nuclear force chosen by itself unless the U.S. hostile policy and nuclear threat to the DPRK are definitely terminated," the KCNA report stated.
North Korea has previously warned the U.S. and South Korea it would launch its ICBM, which is capable of reaching the mainland U.S. However, experts at the time dismissed the threats.
© Copyright IBTimes 2022. All rights reserved.
FOLLOW MORE IBT NEWS ON THE BELOW CHANNELS