Twitter Reacts To Cardi B Saying Men Should Spend More On Valentine's Day Gifts Than Women
KEY POINTS
Cardi B believes men should spend more than women when it comes to Valentine's Day gifts
The rapper's tweet sparked backlash, with some pointing out she gave husband Offset lavish gifts
Cardi says she received many expensive gifts from Offset, including cars, designer bags and jewelry
Cardi B recently faced backlash after sharing her thoughts on Valentine's Day gifts and claiming men should be spending more during the holiday.
Ahead of Valentine's Day, Cardi took to Twitter Thursday and said that while gift-giving should be done by both people in a relationship on the day of love, she thinks women deserved to get the more expensive presents.
"Yes ! Men do deserve to get gift as well for Valentine's Day, but the gift have to be less expensive then the girls gift. Soo if he buys you flowers you buy him grass," she tweeted.
The tweet received mixed responses from Twitter users, with some agreeing with the "WAP" rapper's statement.
"Valentine's Day is for women!!! -Ladies, make him feel special another day another time. Also, match his effort when you do decide to show love," one commented.
"Traditionally Valentine's Day is 'for women' But the Fellas have their own day March 14th ~ Steak and BJ Day," another added.
Some questioned the tweet as it did not recognize those in same-sex relationships, while others pointed out that she also gave her husband Offset lavish presents.
"What if it's 2 gays and there's no clear 'girl' in the relationship? Who gets the cheaper gift?" one asked.
"Not these women taking advice from someone whose husband bought her a $330k Rolls Royce, then she bought him a $700k Lamborghini. Lmfaoooooo, y'all be easy though," another wrote.
Following the comments, Cardi doubled down on the remarks, tweeting Friday, "Ok so due to my Vday tweet men came on my twitter roasting me sayin 'but you bought your man a lambo' but remember...I got 550K ring on my left hand ,400k ring on my right ,Thousands of dollars In Birkins ,soo much jewelry, a lambo truck and rollsRoyce truck ..so we even in gifts."
She also had some suggestions for what gifts to give this Valentine's Day, adding, "So if ya don't like the flowers & grass comparisons let me give ya one that make men happy. If you buy her thousand dollars Louboutin heels she should buy you a ps5 that's around 550$."
Cardi shocked fans in September when she filed for divorce from Offset after tying the knot in 2017. At the time, she said there was no chance of a reconciliation between them.
However, in October, the rapper confirmed that they were back together after she accidentally posted a topless picture online, explaining she was with her husband at the time.
On Nov. 2, Cardi filed to dismiss the divorce petition, according to the court records obtained by Insider.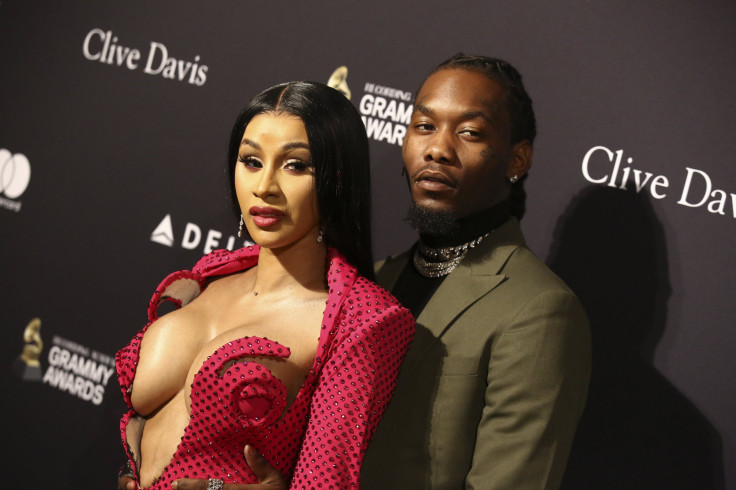 © Copyright IBTimes 2023. All rights reserved.