Twitter Reacts To Donald Trump's Angry Letter Resigning From Screen Actors Guild: 'What A Loser'
KEY POINTS
Donald Trump resigned from SAG-AFTRA ahead of its meeting to decide whether to expel the former president from its ranks
Trump's "angry" resignation letter was met with mockery on social media
Some questioned the seal used by Trump and his use of the title "president" in the signature
Donald Trump has officially resigned from the Screen Actors Guild-American Federation of Television and Radio Artists (SAG-AFTRA), and the former president's blistering resignation letter is receiving mockery on social media.
In the letter to union president Gabrielle Carteris Thursday, Trump addressed his upcoming disciplinary hearing, in which SAG-AFTRA would decide whether to expel him from its ranks over his alleged role in the Jan. 6 insurrection at the Capitol. "Who cares!" Trump wrote.
Trump accused the union of doing little for its members "besides collecting dues and promoting dangerous un-American policies and ideas." He continued, "I no longer wish to be associated with your union. As such, this letter is to inform you of my immediate resignation from SAG-AFTRA. You have done nothing for me."
The letter has since received tons of reactions on Twitter from netizens and even some of SAG-AFTRA's 160,000 members.
"He's the kind of guy who'd fart, light it and then blame the matchstick. What a loser," stage host Mark Newbold tweeted.
"Donald Trump resigns from Actor's union SAG-AFTRA! As a member of @sagaftra for over 26 years...Go F--k Yourself Donny!" actor Kirk Acevedo wrote.
"The most important thing he said is 'you've done nothing for me.' Unions are about the group—United we stand, divided we fall. Clearly, Trump doesn't understand the group he joined just as he didn't understand the office he held. The world doesn't revolve around him," a Twitter user wrote.
SAG-AFTRA had a hilariously concise response to his letter, simply writing, "Thank you."
Others poked fun at Trump saying he was "very proud" of his cameo appearances in movies such as "Home Alone 2," "Zoolander" and "Wall Street: Money Never Sleeps." He also mentioned some of his TV shows, including "The Fresh Prince of Bel-Air, Saturday Night Live" and "The Apprentice."
Others accused Trump of using an alleged "fake presidential seal," which some argued was actually the Great Seal.
"Whoa—I just clocked that Trump signed his letter to SAG-AFTRA 'President Donald J. Trump' Given that he's now on trial for inciting an insurrection over false claims he's America's legitimate president, I think this signature, under a fake presidential seal, is a bit troubling," lawyer and author Seth Abramson tweeted.
But several netizens defended Trump, citing previous presidents who reportedly also used some form of the seal on their letterheads. Others said past presidents can still use the title in their statements and letters.
"OK, so I found out Donald might be in the clear. Previous presidents are allowed to use this seal when corresponding from their official former-president's office. Previous presidents have used it. The question is: Is 'The Office of Donald Trump' considered the official office?" one person wrote.
Former President Barack Obama also referred to himself as "President Obama" when he released a statement following the Capitol riot. The move raised some eyebrows at the time, but most were not bothered, with one pointing out that "all former Presidents are still called Mr. President or Vice President."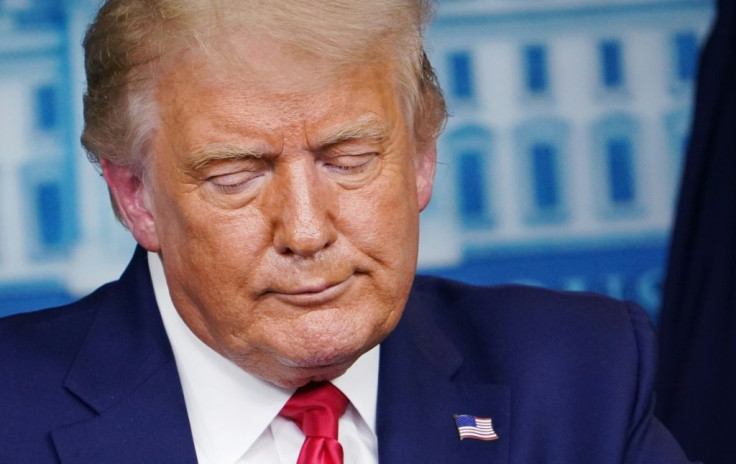 © Copyright IBTimes 2023. All rights reserved.