Twitter Reacts To Melania Trump Leaving Donald Trump Alone In Front Of Cameras
KEY POINTS
Melania Trump seemingly snubbed photographers when she and her husband, Donald Trump, arrived in Florida Wednesday
Some Twitter users speculated that Melania was "done" posing in front of cameras
Other netizens defended Melania, claiming her husband pushed her away
Donald and Melania Trump put on a united front when they left the White House for the final time ahead of Joe Biden's inauguration Wednesday, but things looked different when they arrived in Florida.
In a video obtained by The Guardian and shared on Twitter, Melania and her husband descended Air Force One together, but the former first lady left Trump alone in front of the cameras at Palm Beach International Airport. While Trump stopped in front of photographers to wave at the crowd, Melania continued walking to their car, which would take them to Mar-a-Lago Club.
The video, which has been viewed over 5.3 million times on Twitter, received mixed responses from social media users, with one speculating that "Melania is totally done. She already quit posing."
"And so it begins. They're out of sync. Crap at Capitol final straw. Won't leave though. She's glad to leave DC, and not have to be with her husband much, and get back to doing whatever the hell she did everyday. What do idle rich do? They watch regular folks like an ant farm," another Twitter user commented.
"She is so done with him," a third person said, while another added: "She's so over it."
"She's done. She doesn't have to pretend she cares anymore!" Sandra Dralle added.
Some social media users offered another explanation for Melania's actions, claiming Trump actually nudged her, which seemed to be a hint for her to continue walking.
"He pushes her away. Watch carefully," one commented. "She didn't. He pushed her away," another wrote.
"Then again the Guardian knew all that but its their job to dramatize and fabricate stories. He pushed her and he didn't want to be pictured with her in that dress as his last picture as president. Am not even a fan of Trump but fan of the truth Mr. guarlying (guardian)," Haval Galali opined.
"Not what happened- trump gave her a subtle push to go away," Geo Steve added.
In related news, Melania earlier received criticism for breaking the tradition of giving the next first lady a White House tour.
Melania didn't invite Jill Biden for tea and a tour of the White House living quarters before President Biden's inauguration. This tradition dates back to the 1920s and extends all the way to 2017, when outgoing first lady Michelle Obama hosted Melania for a tour of the private residence.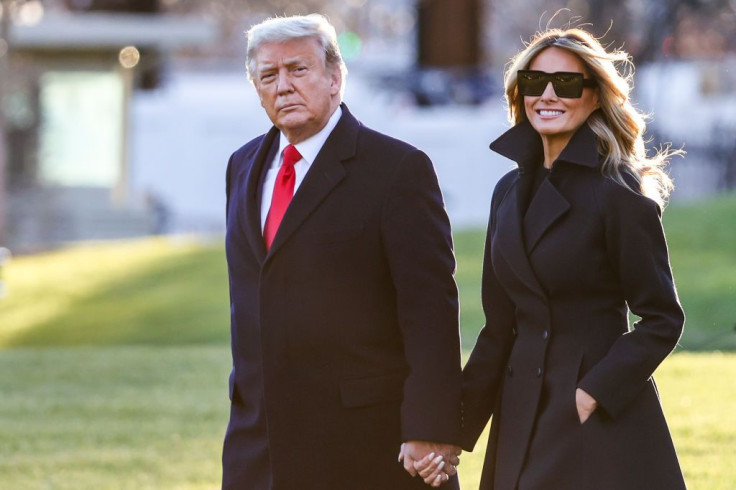 © Copyright IBTimes 2022. All rights reserved.
FOLLOW MORE IBT NEWS ON THE BELOW CHANNELS