Twitter Reacts To Meghan Markle's Awkward Exchange With Royal Aides Over Flowers [Video]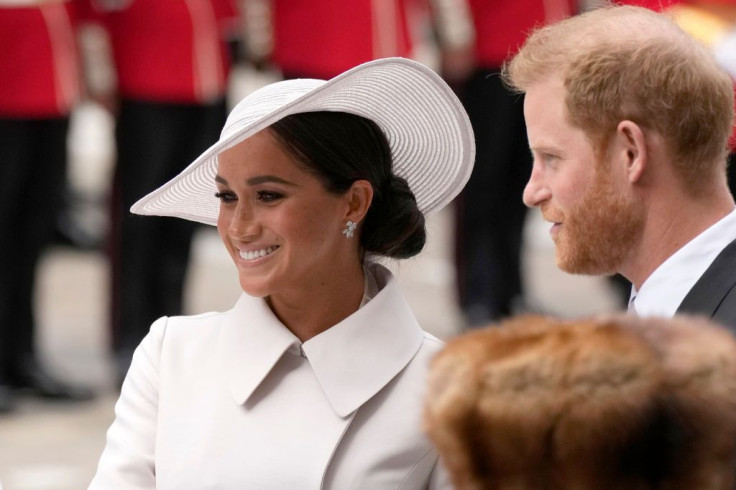 KEY POINTS
Meghan Markle was caught on a video refusing to hand flowers to a royal aide during a walkabout at Windsor Castle Saturday
Some royal fans criticized the duchess over the exchange
Others defended Markle, saying she appeared to have promised to lay the bouquet at the gate of Windsor Castle herself
Meghan Markle's awkward moment with royal aides over flowers has garnered attention on social media.
On Saturday, the Duchess of Sussex and her husband Prince Harry joined Prince William and Kate Middleton in greeting and gathering flowers from mourners who lined the roads outside Windsor Castle to pay tribute to Queen Elizabeth II, who died Thursday at age 96.
In a video captured by one mourner outside the royal residence, Markle was seen declining the offer of a royal aide, who had approached her to ask whether he could take the bouquet of flowers she was carrying.
Markle appeared to tell the aide that she planned to put them down herself before turning back to the crowd of mourners with the flowers still in her arms, Page Six reported.
"The first aide tried unsuccessfully to take the flowers from her," the caption of the video read.
A second video posted by the same user showed another aide walking up to take the flowers that Prince Harry got from a member of the public before reaching for Markle's bouquet as well.
Markle appeared to resist at first but eventually handed the flowers to the aide after the royal staffer and Prince Harry appeared to explain the situation.
"The big guns had to step in when Meghan refused to let go of the flowers the first aide tried to take from her as she herself wanted to walk them over to the other tributes," the user wrote alongside the second clip.
The videos received mixed responses from royal fans.
Some criticized Markle, pointing out that Prince Harry, Prince William and Kate Middleton appeared to have had no problem handing the flowers they gathered to the royal aides.
"The flowers are for [Her Majesty The Queen], not you, Megain! What a disaster she is to be married into the [royal family]," one commented.
"How come no other royal has a problem with letting others take the flowers?" a second user wrote, as another tweeted, "It is the job of the aide to place those flowers."
Another person tweeted of Markle, "She probably wanted to be captured and filmed when she walks alone put flowers over there and put an action. Actually, if you think about it, she really is a narcissist, always trying to make everything about her on every occasion! Glad she was stopped!"
Other royal fans defended Markle, suggesting that she may not have been aware of the protocol. Some also said that the duchess had promised the mourner who gave the flowers that she would lay the bouquet at Windsor Castle herself.
"She told him that she had promised to lay them at the gate. She thanked him and said she appreciated his asking. Sorry that doesn't fit in with your twisted, hateful narrative," one fan said of Markle.
"[It] looks like she just said, 'I've been asked to lay them and I'll put them over there,' and gestures. Fair enough. I'm no fan of hers, but she's done nothing wrong here," a second user opined.
"Maybe she just did not know the protocol! If she said to someone I will place your flowers for you, maybe that was what she was planning. I am neither for nor against her, but I will always give everyone the benefit of the doubt. I thought she looked very nervous and anxious," a third person suggested.
"Did you ever think that maybe she wanted to do what she had said she would do? Why does everything she does have to be sinister? Damn! You can clearly see in her pictures that she is feeling not sure of herself. Grant her some latitude during this time. She is doing her best," a fourth user wrote.
Saturday's walkabout marked the first time Prince Harry, Markle, Prince William and Middleton were spotted in public together after the Sussexes stepped back from royal duties in 2020.
The new Prince of Wales invited his younger brother and sister-in-law to join them on the walkabout because he believed it "was an important show of unity at an incredibly difficult time for the family," an unnamed royal source told People.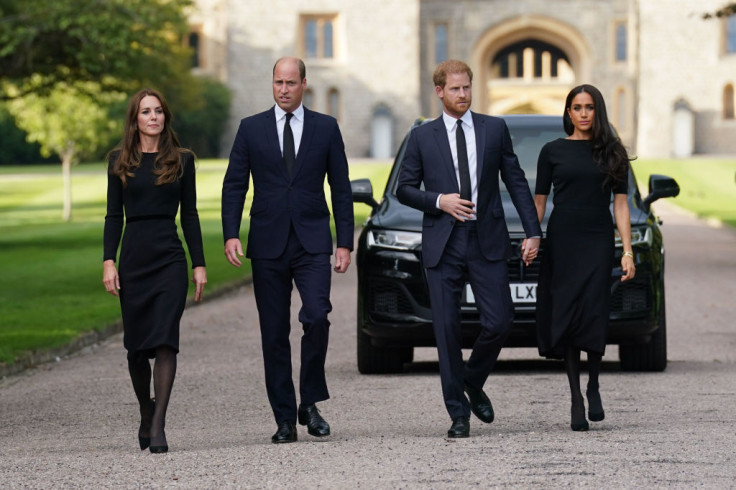 © Copyright IBTimes 2023. All rights reserved.