Twitter Reacts To Sean Spicer Rejecting Offer From 'Dancing With The Stars'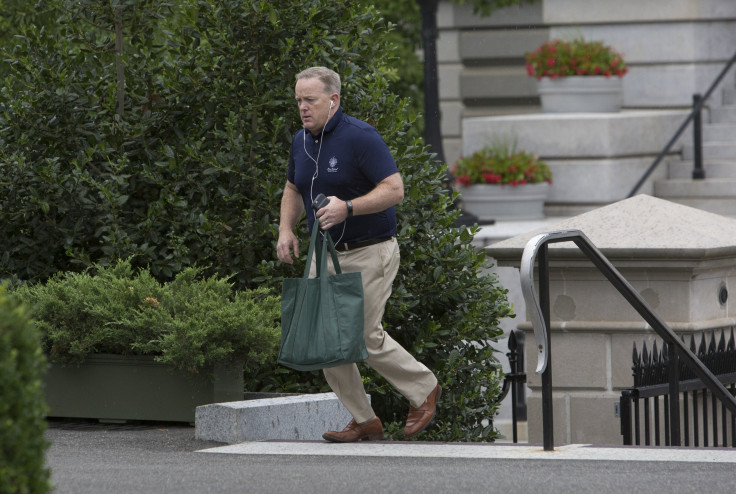 Former White House Press Secretary Sean Spicer has turned down an offer from ABC's reality show "Dancing with the Stars." A source close to him said the former press secretary has "overwhelming number of commitments in the fall," TMZ reported Thursday. The source also told TMZ that Spicer was "not a good dancer."
The reality show producers were hopeful of roping in Spicer on the show, Page Six reported in July. Reacting to the reports, actor Zach Braff tweeted: "Can't wait to see Sean Spicer waltz on Dancing With the Stars."
Read: Where Is Sean Spicer As White House Briefing Held Off-Camera Monday?
While it is not yet clear why Spicer said no to the offer, Twitteratti had a field day with the news.
Some users, who were hopeful of watching the former press secretary flaunting his dance moves on television, were disappointed after hearing the news of him declining the offer.
Spicer may be considering a switch to the dynamic field of television where he can share his insider knowledge of the White House. He spent some recent days in meeting executives of top networks for "a contributor deal," Page Six reported, citing sources.
He was seen coming out of the offices of ABC, NBC, CBS and Fox News. One of the sources also told Page Six some news executives "made the full-court press," as each of them tried to convince Spicer, who has been a hot topic for late-night shows, to join them. Spicer's resignation was said to have the biggest repercussion on the late-night comedy shows that turned his tumultuous tenure in the White House into the butt of many jokes.
"Sean Spicer became the public face of a modern-day 'emperor with no clothes,' having to pretend that everything's fine, when in reality he was the mouthpiece for an administration that didn't know what it was doing," Jeffrey P. Jones, director of UGA's Peabody Awards, was quoted as saying by Forbes. The George Foster Peabody Awards program is named after American businessman and philanthropist George Peabody and honors the most powerful stories in TV, radio, and online media, according to the official website.
"As the perfect manifestation of the craziness that has surrounded this [Trump] presidency, Spicer's farcical press briefings were comedy gold for late night hosts, and a daily feast for the media world at large," Jones added, referring to Spicer's stint in the White House.
Read: How Twitter Reacts To Sean Spicer Getting Fatter, As Steve Bannon Apparently Claims
One of the most memorable comic stunts on Spicer was from "Saturday Night Live" (SNL) with comedian Melissa McCarthy guest-starring as the press secretary and churning high ratings every time she donned a suit and bald wig, making her look like Spicer.
SNL's last season was its most-watched in 23 years, and some of the most appreciated episodes were those where McCarthy mimicked Spicer and the way he would go into bursts of anger toward reporters. She also mocked him by driving a motorized version of Spicer's podium around the streets of New York City and stopping at Trump Tower.
© Copyright IBTimes 2023. All rights reserved.