Twitter Reacts To Uber Board Member David Bonderman's Sexist Remark During Corporate Culture Meeting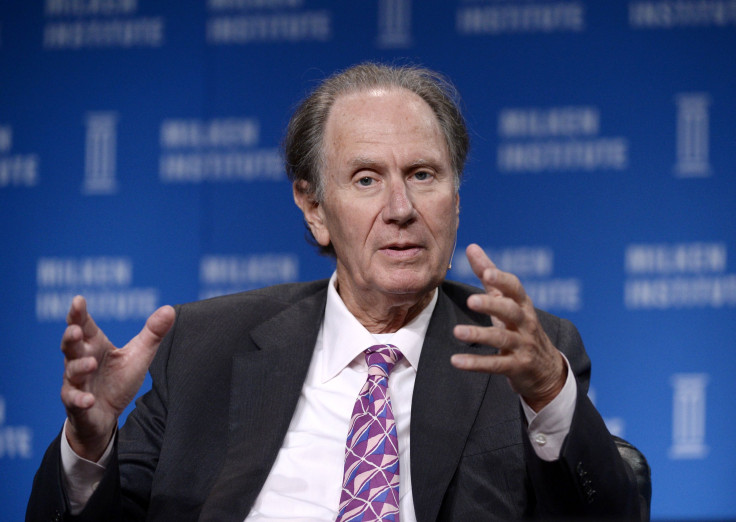 Uber's board member David Bonderman resigned Tuesday after he came under fire for allegedly making a sexist remark during the company's corporate culture meeting. His comments came when Arianna Huffington, another board member, talked about how one woman on a board increases the likelihood that more women would join a board.
"There is a lot of data that shows that when there is one woman on the board, it's much more likely that there will be a second woman on the board," Huffington said during the meeting, according to the New York Times, to which Bonderman interrupted to say: "Actually, what it shows is that it's much more likely to be more talking." Huffington laughed awkwardly, saying: "Ohhh. Come on, David."
After the staff meeting, employees expressed their disapproval of Bonderman's remark, sending numerous emails to their managers and to Liane Hornsey, Uber's head of human resources, the Times reported citing sources.
Read: Uber CEO Travis Kalanick Is Taking Leave Of Absence
Following the incident, Bonderman quickly apologized for his remark, saying his comment "came across in a way that was the opposite of what I intended, but I understand the destructive effect it had, and I take full responsibility for that."
"I do not want my comments to create distraction as Uber works to build a culture of which we can be proud. I need to hold myself to the same standards that we're asking Uber to adopt. Therefore, I have decided to resign from Uber's board of directors, effective tomorrow morning," he added.
Huffington took to her Twitter account later Tuesday appreciating Bonderman's decision to resign.
Bonderman's remark came as the ride-hailing company is trying to overcome a series of scandals over corporate misbehavior, including sexual harassment claims.
Earlier Tuesday, Uber released a 13-page document outlining recommendations it planned to adopt and bring more accountability to executives at the company for their actions and to increase board oversight.
"This morning, employees were presented the recommendations from Covington & Burling that were unanimously approved by the Board on Sunday. Implementing these recommendations will improve our culture, promote fairness and accountability, and establish processes and systems to ensure the mistakes of the past will not be repeated. While change does not happen overnight, we're committed to rebuilding trust with our employees, riders and drivers," Liane Hornsey, Chief HR Officer at Uber said in a statement.
Amid criticism of the workplace culture, it was announced that CEO and co-founder Travis Kalanick would also take a leave of absence.
"Board and management leadership is our highest priority and over the coming weeks and months we will be adding strong independent board members," Kalanick wrote in an email to employees late Tuesday about Bonderman.
Read: Uber CEOs Sex Guidelines Email To Employees Before Miami Party
The issue of sexual harassment at Uber was highlighted when a former employee wrote a blog post detailing how she was treated at the company.
"It was clear that (my manager) was trying to get me to have sex with him, and it was so clearly out of line that I immediately took screenshots of these chat messages and reported him to HR," Susan Fowler, a former engineer at the company, wrote on her blog. "When I reported the situation, I was told by both HR and upper management that even though this was clearly sexual harassment and he was propositioning me, it was this man's first offense, and that they wouldn't feel comfortable giving him anything other than a warning and a stern talking-to. Upper management told me that he "was a high performer" (i.e. had stellar performance reviews from his superiors) and they wouldn't feel comfortable punishing him for what was probably just an innocent mistake on his part."
Below are some Twitter reactions to Bonderman's sexist remark Tuesday:
© Copyright IBTimes 2023. All rights reserved.