Tyga Sources Responds To Controversial Video Showing King Cairo Next To Suspicious Green Pile; Was It Marijuana?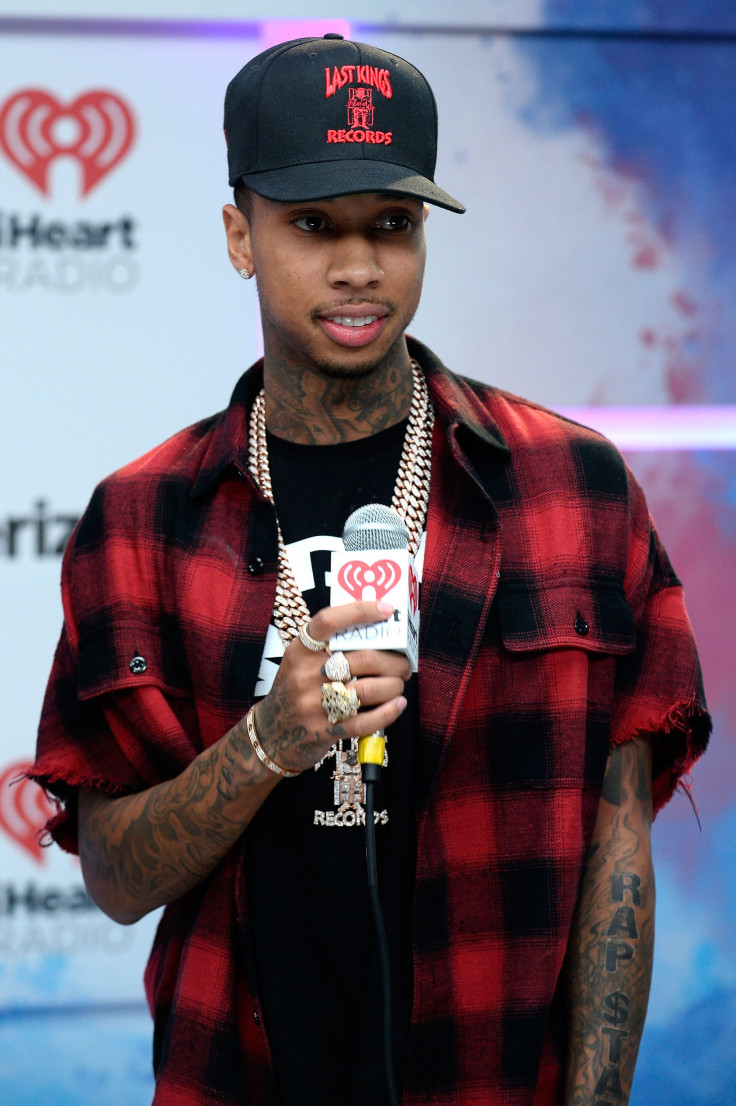 Tyga is finally speaking out about the controversy sparked by a video that appeared on his Snapchat Wednesday. The "Stimulated" rapper shared a video with followers of his son, King Cairo, standing in a living room surrounded by adults -- and what looked to be marijuana. Sources close to Kylie Jenner's boyfriend are shutting down the rumors, claiming the footage wasn't what it looked like.
TMZ was able to track down sources close to Tyga, 25, who claim the rapper was caught off guard by the drama. The site reports that he is an incredibly responsible parent and would never post a video of his 3-year-old around drugs. TMZ also claims he has never allowed anyone to bring drugs around his son and that Tyga enforces a strict "no blazing" rule around King Cairo.
Speculation about the suspicious green pile began shortly after Tyga shared the Snapchat. The unidentified substance could be seen sitting on a coffee table within reaching distance of King Cairo. Next to it was a pack of Swisher Sweets cigars, which TMZ reports are often used to roll blunts, or marijuana-filled cigars. The site went on to state that Tyga removed the video from his account shortly after his lawyer was called to comment on it. Although he acted quickly, Tyga's followers had already grabbed the video and begun passing it around the Internet.
Despite the controversy, Tyga was still able to make it to Kylie's sister Kim Kardashian West's surprise 35th birthday party Wednesday. Her husband, Kanye West, rented out Cinepolis Luxury Cinemas in Westlake Village, California, where he screened "Steve Jobs" for Kim's close friends and family. Guests were asked to attend the party wearing Kim-inspired fashions and were given fake baby bumps to wear upon arrival.
Tyga has not yet made comment about the video.
© Copyright IBTimes 2023. All rights reserved.