UK Copyright Law Makes Room For Parody, But Beware Of Humorless Judges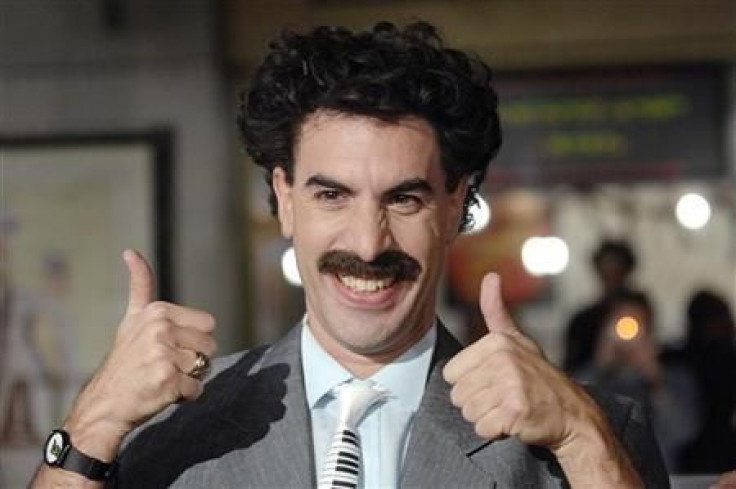 Here's a bit of friendly advice for British artists: If you're making a parody, make a funny one. Lawmakers are at long last easing the U.K.'s notoriously stiff copyright restrictions for parody artists, but based on a ruling from the highest court in the European Union, the legality of parodies may ultimately come down to whether individual judges find them amusing.
The new law, which takes effect on Wednesday, amends the Copyright, Designs and Patents Act of 1988, allowing for artists to use copyrighted material without permission for the purposes of "caricature, parody or pastiche." Until now, parodists in the U.K. had to obtain permission from the original copyright holder or risk being sued. Critics have long said the rules were out of date in the digital age, often resulting in unfair legal action against artists. In many cases, even harmless video mashups would be yanked from YouTube in the U.K.
The new rules codify some basic rights for parody artists under the U.K.'s "fair dealing" doctrine, provided the parody evokes the original work while also being distinct from it. But there's a caveat: Judges presiding over parody court cases will have to refer to a ruling by the European Court of Justice (ECJ), which on Sept. 4 defined parody for the first time. Under that definition, a parody has to "constitute an expression of humor or mockery."
Ciara Cullen, a senior associate at the London law firm RPC, said that subjective definition will leave much to the individual tastes of U.K. judges. "If there is a dispute at some time in the U.K. -- and it goes to court -- it would be up to the judge to decide whether [the parody artist is] entitled to rely on the exception," she told International Business Times. "And he would have to assess whether it's funny."
The ECJ ruling concerned a 2011 case in Belgium in which Johan Deckmyn, a member of the nationalist party Vlaams Belang, created a calendar featuring a parody of the comic strip "Suske en Wiske." Because the decision concerns the European Copyright Directive, it has to be applied autonomously across the European Union.
Fortunately, most individual parody disputes will be decided on the national level, and Cullen said the high court did not attempt to dictate a single standard of humor for the whole of the continent. "They weren't going to say at a European level what is funny, or what they consider to be funny," she said. "Obviously the social and cultural norms from one member state to another can be very different."
Either way, the law is expected to make it easier for artists to create parodies without the threat of legal action. "This is a great leap forward for satire in the United Kingdom," said Miriam Elia, an artist and comedian whose satirical art book, "We Go to the Gallery," provoked the ire of Penguin Group earlier this year. "From the petrifying experience of having no legal protection earlier this year, I'm happy to see laws come into effect that offer satirists basic rights."
"Mike," one half of the English mashup duo Cassetteboy, said the rules are a good start but they don't go far enough. "Manipulation of existing material is a perfectly legitimate form of expression, and one that is particularly suited to the digital age," he said in an email through the duo's manager. "Such work is now legal if it is in the form of a parody but not otherwise. Not all of our work would necessarily be classed as parodies, so we find ourselves in the strange situation where most of our work is legal, but some of it, created in exactly the same way, is not."
Similar to legal disputes the United States, parody disputes in the U.K. will be judged on a case-by-case basis. Cullen warns that the new rules are not a license to go out and commit infringement but merely part of an attempt by U.K. lawmakers to bring copyright laws up to date with technology. Moreover, the rules don't affect U.K. "moral rights," which give intellectual property owners the right to object to their work being placed in a derogatory light. For instance, a parody that engages in a discriminatory message against a certain ethnic group could be deemed objectionable.
Elia said that, too, is a subjective concept.
Got a news tip? Email me. Follow me on Twitter @christopherzara.
This article has been updated out of courtesy for a source.
FOLLOW MORE IBT NEWS ON THE BELOW CHANNELS