Ukraine: Cold, Cruel World for Growing Numbers of Homeless
ANALYSIS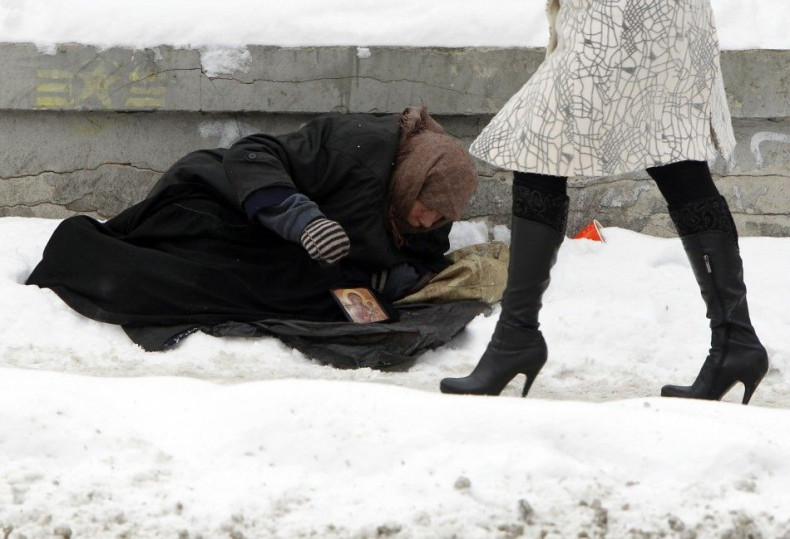 The bitter cold snap in Eastern Europe which has killed scores of people has particularly hit the region's homeless population very hard.
In the former Soviet Republic of the Ukraine, more than 100 people have already died from the extreme cold weather -- the majority of them were people living on the streets, according to the nation's health ministry.
The temperatures in Eastern Europe have plunged to as low as minus-30 Fahrenheit.
Hundreds of other homeless Ukrainians have been sent to hospitals for various cold-related afflictions, including frostbite and hypothermia. Ukraine, which endured a horrific economic crisis during 2008-2009, now has an unemployment rate of about 8.5 percent, according to the national statistics office. That translates to more than 1.7 million out of more than about 46 million people in the country out of work.
According to the Kyiv (Kiev) Post newspaper, there are officially some 12,000 homeless people living on the streets of the capital city of Kiev. The actual number of homeless in Kiev itself - which has a total population of about 2.6 million - may be higher.
While government officials are offering to help the homeless to ward off the brutal cold, there are simply too many who need assistance with food, drink and temporary shelter.
"[The homeless] often choose the top floors of buildings, basements, insulated pipes, areas around manholes and train and bus stations," Oleksandr Vasylenko, of the Emergency Situations Ministry, told the newspaper.
The homeless also sometimes face the contempt of other Ukrainians, a holdover attitude from the Soviet era.
"In Soviet times, the homeless were considered criminals and alcoholics, Pavlo Rozenko, an expert on social policy with the Kiev-based Razumkov Center, told the Post. Unfortunately, Ukrainian authorities inherited this mentality."
Serhiy Taran, of the International Democracy Institute, a Kiev-based think-tank, told the BBC: "The reason that so many homeless are dying is simply because we have more poor people living on the streets"
Taran also blames the policies of Ukrainian President Viktor Yanukovych. Yanukovych's government has neglected [its] social obligations, he said. The divide between rich and poor in Ukraine is one of Europe's largest.
In a 2006 report, the nonprofit group European Federation of National Organizations Working with the Homeless (FEANTSA), said: "The problem of homelessness in Ukraine [emerged] as one of the negative consequences of the transition process [away from Communism] and has become [a] very pressing [issue]. Homelessness in Ukraine is similar to the phenomenon in other former Soviet bloc countries like Poland, Hungary, Romania."
The nonprofit group added that the "major causes of homelessness are economical transformations, resulting in a low level of living standards and insufficient income of people.
With up to 25 percent of the population living below the poverty level and 70 percent of people whose income does not cover the basic needs, many people cannot afford proper housing. And so, as a result of domestic problems, fraud and evictions, many of these people become homeless."