United Adds Dreamliner Routes - Here's What You Can Expect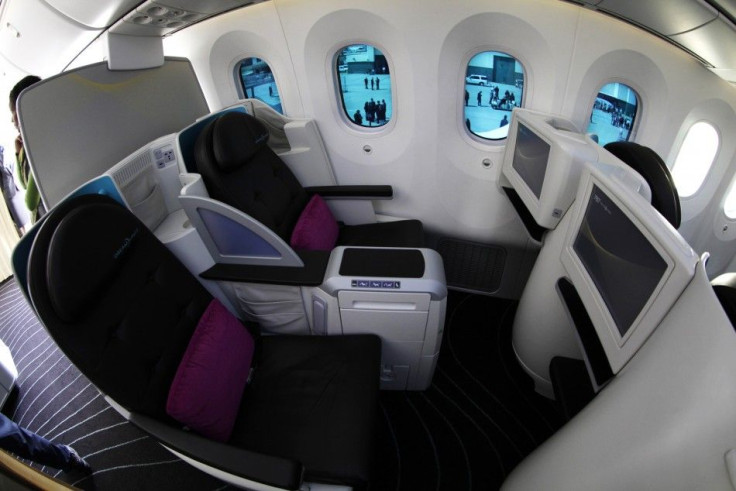 United Airlines has had a rough go of it amid the challenges posed by its 2010 merger with Continental, but the carrier hopes its latest addition, the Boeing 787 Dreamliner, can put a new face on the tarnished brand.
Over the past year, United has struggled with poor on-time performance, merger-related computer glitches, customer complaints and lagging revenue, but it posits itself as one step ahead of its rivals as the first North American carrier to fly the fuel-saving composite-plastic jet.
United flew its first paying passengers aboard the new aircraft Sunday on an inaugural route from Continental's former base in Houston to United's home of Chicago. Sunday's milestone came after a month-long certification program that included noncommercial flights to several domestic and international hubs totaling more than 100 flight hours, during which time the aircraft underwent a series of test scenarios.
"I want to thank my co-workers who worked so carefully and professionally to get United certified to operate the Dreamliner," United President and CEO Jeff Smisek said Sunday. "Many people from across the company put in a lot of work to help us induct and prepare to operate the 787, and I'm proud to share this important day with all of them."
United, the word's second largest airline by passenger numbers, has received just two of the 50 Dreamliners it has on order. Two more are expected in November and one in December when it begins its first international routes on the aircraft between Houston and Amsterdam. It will roll out services from Los Angeles to Tokyo and Shanghai, Houston to Lagos and London Heathrow, and Denver to Tokyo in 2013.
Dreamliner entered the commercial market in 2011 with Japan's All Nippon Airways, but many North Americans will likely experience the aircraft for the first time over the coming months as United bolsters its fleet with the $206.8 million jets.
Though production was marred by delays, Boeing's Dreamliner is widely seen as a game-changer in the industry not only for its efficiency in long-haul routes, but also for its creature comforts. Here's a look at what North Americans can expect:
The Seats
United configured its Dreamliners with 36 seats in business first, 70 seats in economy plus and 113 seats in economy. The seats in business first recline to a 6-foot, 6-inch flat bed. The economy plus seats feature a 35-inch pitch with 6 inches of recline, while standard economy seats offer a 32-inch pitch with 5 inches of recline. The Dreamliner also has the largest overhead bins in the industry, so there's no need to store your carry-on under the seat in front of you.
Better Breathing
A lower cabin altitude of 6,000 feet (compared to 8,000 feet for a typical aircraft) and enhanced ventilation systems mean your body absorbs about 8 percent more oxygen, reducing the chance of headaches, dry eyes and fatigue.
The Windows
One of the most talked-about features of the Dreamliner is its large windows, which offer even those in the aisle a decent view. Moreover, electrochromatic dimmers replace pull-down shades, allowing passengers to adjust the tint to block outside light.
Lights
Because two light settings is never enough, Dreamliner's LED lights throughout the cabin change six times for different phases of the flight.
Gadgets
In-seat power outlets keep laptops alive throughout intercontinental flights. The seats also come equipped with personal on-demand entertainment systems accessible in 13 languages with more than 500 hours of programming.
Greener Flying
Fifty percent of the 787 -- including the fuselage, tail and wings -- is comprised of composite materials that create a structure that is more durable and does not corrode or fatigue like metal. Another 35 percent is made up of lightweight metals (20 percent aluminum and 15 percent titanium), while steel and other materials make of the rest of the body. The aircraft also eliminates some 60 miles of copper wiring, equivalent to the length of 880 football fields.
One of the Dreamliner's biggest selling points is its fuel efficiency, a factor essential for airlines struggling to stay profitable amid skyrocketing prices. The aircraft hauls just 33,528 gallons of jet fuel, nearly half of the fuel carried by a 747-400ER (63,705 gallons), and still has a range of more than 9,000 miles with a full load of passengers and cargo.
The General Electric GEnx engines, meanwhile, have a higher bypass ratio, which makes them quieter while reducing fuel consumption. The engines are also 20 percent more fuel-efficient and with 20 percent fewer emissions than on similarly sized airplanes like the Boeing 767.
Finally, the wings sweepback at 32.2 degrees to reduce drag, while raked tips further enhance their efficiency.
© Copyright IBTimes 2023. All rights reserved.