University Of Missouri Racism Allegations: Delta Upsilon Fraternity Suspended For Racial Slurs At Black Students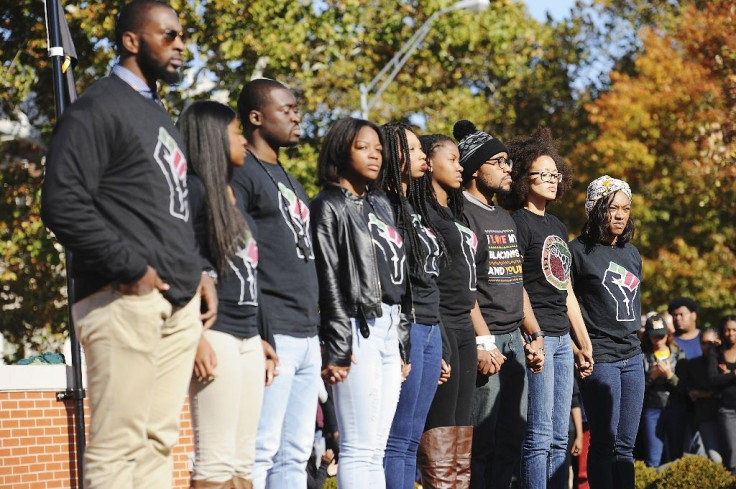 The University of Missouri suspended a fraternity Wednesday following allegations of racial insults aimed at black students. This is the latest incident to mar the university, which last year saw protests over alleged racism on the campus.
The alleged incident happened Tuesday when a group of six to seven white students shouted racial slurs at two black student members of the Legion of Black Collegians' Activities Committee, according to the legion. One of the black students, who was in front of the Delta Upsilon fraternity house at the time of the incident, informed other legion members.
"It was at this moment, outside the Delta Upsilon Fraternity house, that while police were attempting to de-escalate the situation, members of the fraternity began recording the interaction, as well as shouting a variety of obscenities at the Committee," the legion said in a statement. The legion said those obscenities included a racial slur.
According to Justin Kirk, executive director of Delta Upsilon International, the temporary suspension is underway as the incident is investigated.
"Racism and sexism have no place in our fraternity and we expect our members to be positive contributors to inclusive campus environments," Kirk said in a statement.
The university, in a press release, said that the fraternity had been cited for a few more violations on the campus. Its move comes hours later the Delta Upsilon fraternity suspended its chapter over alleged racism.
Last September, black students and Missouri Students Association President Payton Head posted on his Facebook page alleging that he was repeatedly racially abused on campus by a person riding in a pickup truck. This triggered protests in the university and students said there was no strong reaction from university President Tim Wolfe.
Pending Wolfe's resignation, one student went on a seven-day hunger strike, the university's football players stopped their practice or play and some teachers and students threatened to boycott classes. Wolfe stepped down last November.
© Copyright IBTimes 2023. All rights reserved.