US Charges NY Bomb Suspect With Use Of Weapons Of Mass Destruction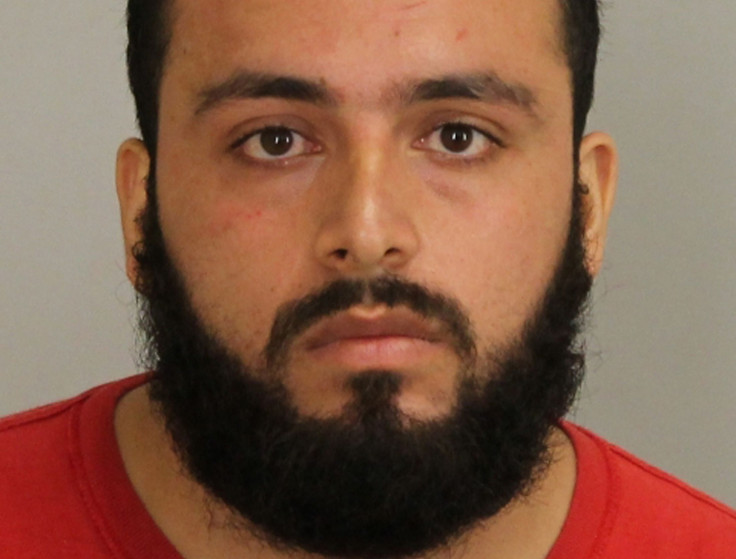 Federal prosecutors on Tuesday charged the Afghan-born man arrested after weekend bombings in New York and New Jersey with four counts including use of weapons of mass destruction and bombing a place of public use.
The charges were laid out in a federal complaint that said a handwritten journal was found on the suspect, Ahmad Khan Rahami, that praised Osama bin Laden, the mastermind of the Sept. 11, 2001 attacks and accused the U.S. government of slaughtering Islamist fighters in Afghanistan, Iraq, Syria and Palestine.
The federal charges come after the father of Rahami, the naturalized American citizen captured on Monday in New Jersey after a shootout with police, said he had reported concerns about his son being involved with militants to the Federal Bureau of Investigations two years ago.
The FBI acknowledged it had investigated Rahami in 2014, but found no "ties to terrorism" and dropped its inquiry.
The White House said on Tuesday it appeared that the bombings were "an act of terrorism" as an investigation continued in to whether Rahami had accomplices, or if he picked up militant Islamic views during trips to Afghanistan and Pakistan.
"The investigation is active and ongoing, and it is being investigated as an act of terror," U.S. Attorney General Loretta Lynch said in Lexington, Kentucky.
Rahami, 28, was suspected in the weekend bombings, including a blast on Saturday night in New York City's Chelsea neighborhood that wounded 29 people, and another on the New Jersey shore that injured no one earlier that day.
Rahami was arrested on Monday in Linden, New Jersey, after a shootout with police that left him with multiple gunshot wounds. Rahami was listed in critical but stable condition, and police had not yet been able to interview him in depth, New York Police Department Commissioner James O'Neill said.
His father, Mohammad Rahami, briefly emerged on Tuesday from the family's restaurant in Elizabeth, New Jersey, about 20 miles (30 km) west of New York City, telling reporters, "I called the FBI two years ago."
The Federal Bureau of Investigation said in a statement that it began an assessment of the younger Rahami in 2014 based on comments his father made about his son after "a domestic dispute."
"The FBI conducted internal database reviews, interagency checks, and multiple interviews, none of which revealed ties to terrorism," the FBI said.
One U.S. law enforcement official said the elder Rahami met twice with the FBI, first saying he was worried his son was hanging out with people who might have connections to militants, but two weeks later contending his real concern was that the son was associating with criminals.
Another law enforcement official said the father "recanted the whole story" about his son associating with terrorists.
The comments by the officials, who spoke on the condition of anonymity, showed Rahami had been brought to the attention of the FBI before the bombings much like others who have carried out attacks in the United States in recent years.
For example, the FBI had received tips on both the Orlando nightclub shooter who killed 49 people in June and the lead bomber in the 2013 Boston Marathon attack before they acted.
Traditional Garb
Rahami was arrested not far from Elizabeth, where his family lived above their storefront First American Fried Chicken restaurant.
A neighbor said Rahami had recently started dressing in more traditional clothes such as long tunics and sandals, which she said was how his father dressed.
"I always saw him outside talking on a cell phone, walking back and forth," said the neighbor, who asked not to be identified. "His brother was friendlier, you always saw him with friends. I never saw him with a group of friends."
Two U.S. officials said Rahami had a small notebook on him when he was apprehended, which one of the officials said contained "ideological" musings.
The notebook, punctured by a bullet hole and stained with blood, contained references to killing nonbelievers and mentioned American-born Muslim cleric Anwar al-Awlaki, a leading al Qaeda propagandist who was killed in a U.S. drone strike in Yemen in 2011, the New York Times reported, citing an unnamed law enforcement official.
Two U.S. officials told Reuters Rahami had traveled to Afghanistan and to Quetta, Pakistan, a city where support for the Taliban is significant.
The official, and other U.S. security sources, said Rahami underwent additional security screening upon returning from abroad but passed each time. One of the officials, who specializes in counter-terrorism, said the "secondary" screening included asking Rahami where he had gone and for what purpose.
Rahami's wife left the United States a few days before the bombings, CNN reported, citing a law enforcement source.
A previous partner of Rahami sued him for full custody of their child on Tuesday, court documents show.
"Defendant has been charged with police attempted murder and is under protective services after possible terrorist related active in NYC," Maria Mena hand-wrote on the application.
© Copyright Thomson Reuters 2023. All rights reserved.