US Coronavirus Deaths Near 100,000 As Trump Enjoys Memorial Day Weekend Golfing
KEY POINTS
President Donald Trump heads for the links on the Memorial Day weekend
He played golf with three buddies (all of them without facemasks) on Memorial Day Saturday at his club in Virginia
The U.S. coronavirus death toll is nearing 100,000
Despite the politically bad optics of an impending 100,000 American deaths from COVID-19, President Donald Trump went ahead and spent the two days of the Memorial Day weekend playing a combined eight hours of golf with his buddies at the Trump National Golf Club in Sterling, Virginia. None of them wore facemasks while golfing, or was any social distancing evident.
The U.S. death toll from COVID-19 stood at 99,300 persons as of 9:44 p.m. ET, Sunday, according to Worldometer. Based on this data, the U.S. will hit and exceed the dreaded 100,000 milestone by early Monday morning. On the other hand, Johns Hopkins University has the U.S. death toll at 97,686 deaths as of 4:30 p.m. ET. With U.S. cases numbering more than 1,000 per day, the country will hit 100,000 by either Monday or Tuesday.
Whichever data is more accurate, there's no denying this horrific total will stain Trump's legacy and his chances for reelection in November. The 100,000 death toll also belies Trump's claim made in February the U.S. will not reach this terrifying number.
In late February, Trump claimed there were only 15 COVID-19 cases in the entire country and declared "the 15 within a couple of days is going to be down to close to zero." When faced with facts disproving this claim, Trump went on to insist the death toll will fall "substantially below the 100,000" mark.
"In the annals of the American presidency, it would be hard to recall a more catastrophically wrong prediction," wrote The New York Times.
The publication also noted Trump has "arranged no event for those who have lost loved ones, nor publicly dwelled on their grief."
Last week, the Imperial College London (ICL) predicted the relaxation of quarantine measures demanded by Trump "will lead to resurgence of (COVID-19) transmission." ICL also said "deaths over the next two-month period could exceed current cumulative deaths by greater than twofold." This means another 200,000 deaths by August.
"To me, the most important question is are we going to do what we need to do to prevent the next 100,000?" asked Dr. Tom Frieden, a former director of the U.S. Centers for Disease Control and Prevention (CDC).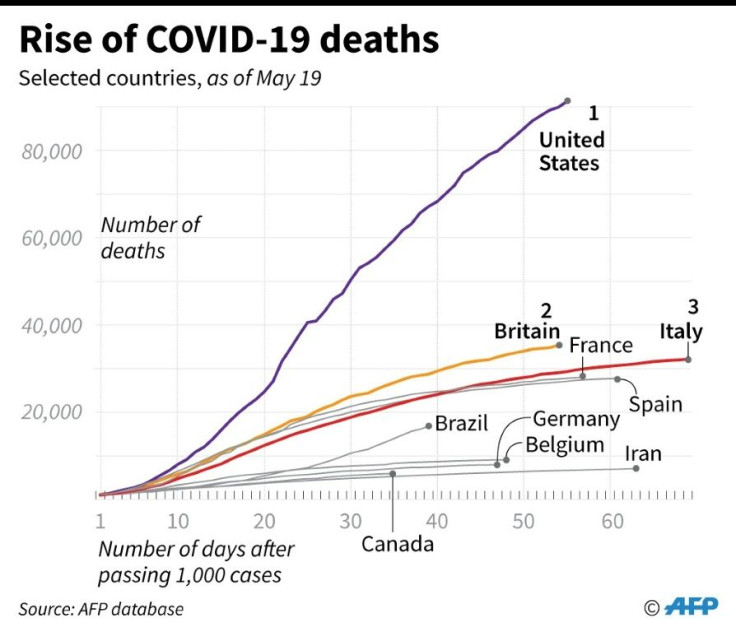 Putative Democratic Party presidential candidate Joe Biden jumped on Trump for playing golf on Memorial Day weekend as the U.S. death toll inexorably rose towards 100,000 persons. Biden unveiled a 30-second video showing Trump playing a round of golf at his Virginia club on Saturday.
"Nearly 100,000 Americans have died," said the ad, which has had more than 1.3 million views. "The death toll is still rising. The president is playing golf."
In 2016, Trump bragged he wouldn't have time for golf if he became president. "I'm going to be working for you, I'm not going to have time to go play golf," he told supporters in Virginia.
As it turned out Trump, has spent more days on golf courses than any U.S. president. The website, "Trump Golf Count," lists down the 251 times Trump has visited golf clubs since his inauguration. It estimates Trump's regular golfing excursions has cost American taxpayers more than $134 million, the largest such tab by any U.S. president. It also lists down the 119 times Trump has played golf thus far during his term as president.
NBC estimated Trump has visited his own properties, mostly his own golf clubs, on more than 400 days since taking office, which is a third of the total number of days he's spent as U.S. president. Former president Barack Obama only occasionally took to the links and citizen Trump didn't like it. Trump criticized Obama for golfing 27 times.
"@BarackObama played golf yesterday," tweeted Trump in August 2011. "Now he heads to a 10 day vacation in Martha's Vineyard. Nice work ethic."
Trump Golf Count said Obama played golf only 306 times during his eight years as president. On the other hand, Trump has visited golf clubs once in every five days he's spent in office. At this rate, he would have visited golf clubs 298 times in four years, or until Dec. 31, 2020.
Late Sunday night, Trump hit back at Biden via Twitter:
"Sleepy Joe's representatives have just put out an ad saying that I went to play golf (exercise) today. They think I should stay in the White House at all times. What they didn't say is that it's the first time I've played golf in almost 3 months, that Biden was constantly...
...vacationing, relaxing & making shady deals with other countries, & that Barack was always playing golf, doing much of his traveling in a fume spewing 747 to play golf in Hawaii - Once even teeing off immediately after announcing the gruesome death of a great young man by ISIS!"
© Copyright IBTimes 2023. All rights reserved.