US Coronavirus Testing Czar Blasts Trump's Attack On Health Officials: 'None Of Us Lie'
KEY POINTS
Admiral Brett Giroir takes issue with Trump's suggestion public health officials are liars out to destroy the U.S. economy
Trump indicated as much by retweeting false statements to this effect made by a game show host
Adm. Giroir clarified "none of us lie"
President Donald Trump's retweeting of a game show host's statements condemning doctors as liars because they want to prevent the economy from reopening drew a swift rebuke from an unlikely source.
Assistant Secretary for Health Admiral Brett P. Giroir, M.D, who is also Trump's coronavirus testing czar, came to the defense of his profession and rejected Trump's claim public health officials are liars out to destroy the U.S. economy.
Trump and administration officials are also discrediting the White House's own coronavirus task force, especially Dr. Anthony Fauci, for directly contradicting Trump's claim the U.S. is conquering the pandemic.
"Look, we may occasionally make mistakes based on the information we have, but none of us lie," asserted Adm. Giroir on NBC's "Today" show. "We are completely transparent with the American people."
Pressed about Trump's Monday retweet, Adm. Giroir replied he's "a physician. I'm a scientist. I'm not a Twitter analyst." He said he doesn't spend that much time on Twitter "because who knows what it means or how or how it's interpreted."
Adm. Giroir was reacting to a string of falsehoods tweeted by game show host and right-winger Chuck Woolery. Trump retweeted two of Woolery's tweets, which assailed what are allegedly the "most outrageous lies" being spread by others about the COVID-19 pandemic.
"Everyone is lying," said Woolery in a tweet shared by Trump. "The CDC, Media, Democrats, our Doctors, not all but most, that we are told to trust. I think it's all about the election and keeping the economy from coming back, which is about the election. I'm sick of it."
Trump later retweeted another Woolery falsehood. This one alleges there exists "so much evidence, yes scientific evidence, that schools should open this fall. It's worldwide and it's overwhelming. BUT NO."
Adm. Giroir's latest criticism of Trump, albeit indirect this time, isn't the only ones he's made. On April 28, Trump boasted the U.S. will be able to carry out five million coronavirus tests per day.
Adm. Giroir, who is a pediatrician, strongly disagreed. He said "there is absolutely no way on Earth, on this planet or any other planet, that we can do 20 million tests a day, or even five million tests a day."
Contrast this willingness to slam Trump with Adm. Giroir's sometimes baffling support of POTUS. On Sunday, Adm. Girior did criticize Dr. Fauci, and echoed Trump's talking points when doing so.
He said while "I respect Dr. Fauci a lot," he is "not 100% right, and he also doesn't necessarily ... have the whole national interest in mind. He looks at it from a very narrow public health point of view."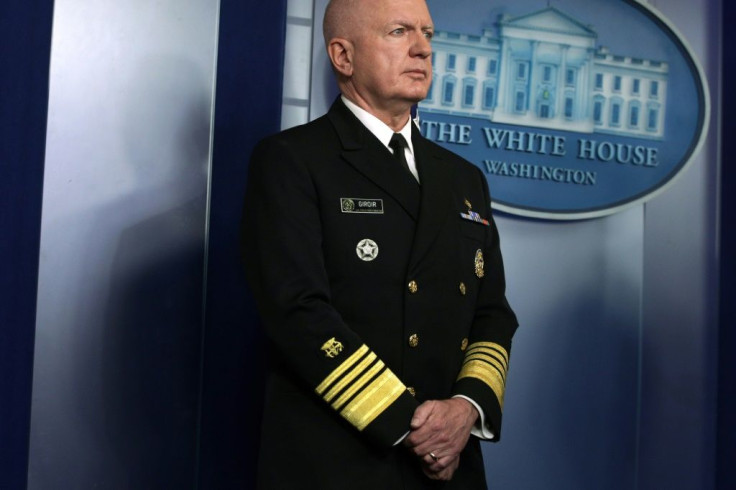 © Copyright IBTimes 2023. All rights reserved.
FOLLOW MORE IBT NEWS ON THE BELOW CHANNELS