Trump, White House On US Coronavirus Situation: Dr. Fauci 'Wrong On Things'
KEY POINTS
The White House is seeking to discredit Dr. Anthony Fauci's statements about the true situation of COVID-19 in the country
An administration official on Sunday revealed a list of Dr. Fauci's alleged erroneous statements about COVID-19
Dr. Fauci has kept on warning Americans to exercise more caution
The Trump administration is ramping-up its criticism of Dr. Anthony Fauci, director of the National Institute of Allergy and Infectious Diseases (NIAID), after his repeated disagreements with President Donald Trump over the true situation of the COVID-19 pandemic in the United States.
On Sunday, a White House official enumerated a list of Dr. Fauci's "wrong" statements, in an effort eerily similar to the one launched by the Trump administration against the World Health Organization (WHO). Trump listed down WHO's many missteps in its response to the pandemic and used this list of wrongs to announce the U.S. was exiting WHO in late May.
This insider said "several White House officials are concerned about the number of times Dr. Fauci has been wrong on things." He gave NBC News a list of nearly a dozen past comments by Dr. Fauci he said had been proven wrong.
Among these sins was Dr. Fauci's comments in March "people should not be walking around with masks," a comment that kept with the prevailing medical wisdom at the time.
Over the past few months, Dr. Fauci has tirelessly kept on warning Americans to exercise more caution in the face of a resurgent pandemic that's threatening to spread out of control following Memorial Day. On the other hand, Trump has kept downplaying the pandemic and even dismissing its dangerous threat outright.
Trump recently said his administration has "made a lot of progress" controlling the pandemic despite record surges in five states and with 31 other states seeing a rising number of new COVID-19 cases each day.
Among these 36 states, Florida on Sunday reported a record high 15,000 cases in one day -- the largest daily total in the United States since the pandemic began. The U.S. on July 10 hit and exceeded 70,000 new cases in a single day for the first time ever. It reported 62,000 cases the next day and is on track to hit 60,000 on Sunday. As of last week, only New Hampshire, Maine, and Vermont are reporting a drop in new daily cases.
The U.S. has been hit by 3.43 million confirmed cases in total since the pandemic began, according to Worldometer data. It has to mourn 138,000 deaths.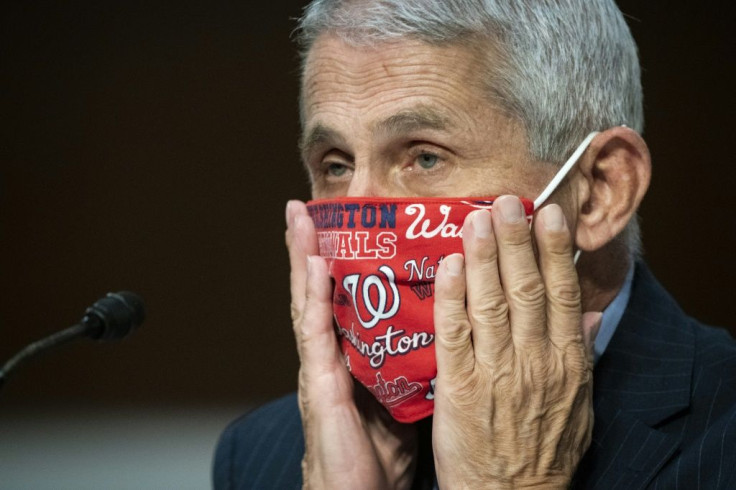 The latest dust-up between Dr. Fauci and Trump occurred last week when Trump on July 5 falsely claimed 99% of U.S. COVID-19 cases are "totally harmless." Dr. Fauci responded two days later, saying the U.S. is still "knee-deep" in its first wave of COVID-19. He also said the Trump administration must act immediately to quell the surge or face serious consequences down the road.
"It's a serious situation that we have to address immediately," said Dr. Fauci.
Last week, Dr. Fauci contradicted Trump by disputing the U.S. is "doing great" in controlling COVID-19. He also criticized the decision by some states to reopen too quickly and to sidestep the task force's suggested criteria for when it's safe to loosen restrictions.
What alarmed the administration no end was Dr. Fauci saying he wouldn't be surprised if the U.S. soon saw 100,000 new cases every day, a terrifying figure that will confirm the Trump administration's total failure to control the pandemic.
© Copyright IBTimes 2023. All rights reserved.
FOLLOW MORE IBT NEWS ON THE BELOW CHANNELS