US COVID-19 Deaths Rise For Third Consecutive Day: Half Of Deaths Reported In Florida, California, Texas
As the U.S. topped 4 million positive cases of the coronavirus on Thursday, it saw its death toll rise by more than 1,000 for the third consecutive day, with more than half of those deaths occurring in Florida, California and Texas.
The U.S. has reported more than 144,300 COVID-19 deaths in total since the pandemic began, Johns Hopkins University reported.
Florida, which has seen its cases of coronavirus surge, reported at least 173 new COVID-19 deaths on Thursday, bringing its total death count to 5,518, The New York Times database indicates. Total confirmed positive cases of the virus sat at 389,800 in the state as of Friday morning, Johns Hopkins said.
Texas has also seen a spike in coronavirus cases, reaching more than 373,000 positive cases on Friday morning. New COVID-19 deaths were reported at 192 on Thursday, bringing the total number of COVID-19 deaths to more than 4,600, the NYT database indicated.
California, which has become a new epicenter of the coronavirus, reported more than 430,700 positive cases of the virus, Johns Hopkins reported. Thursday's COVID-19 deaths were reported at 152, with total deaths in the state topping 8,200 on Friday morning, the Times said.
While Florida, Texas and California reported a significant rise of COVID-19 deaths in the last few days, they are not alone in seeing a surge. States such as Arizona, South Carolina and Louisiana, also reported an increasing number of COVID-19 deaths, the Times database indicated.
Globally there are more than 15.5 million cases of the coronavirus, with COVID-19 deaths topping 634,000, according to the university.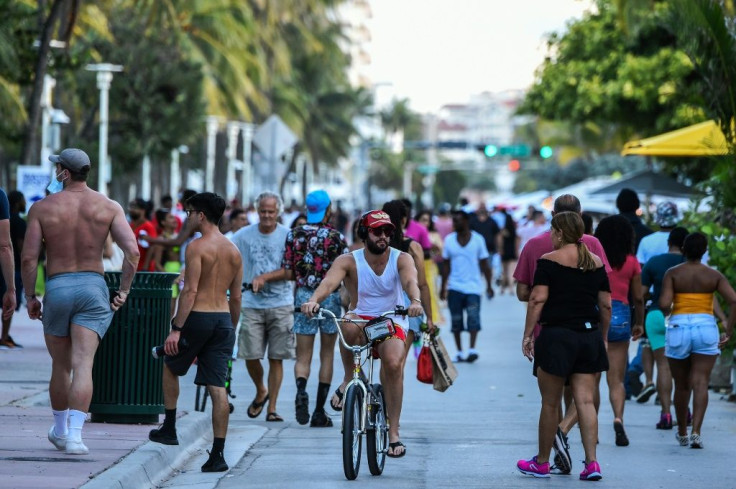 © Copyright IBTimes 2023. All rights reserved.