US, EU, Japan File WTO Complaint Against China Over Rare Earth Exports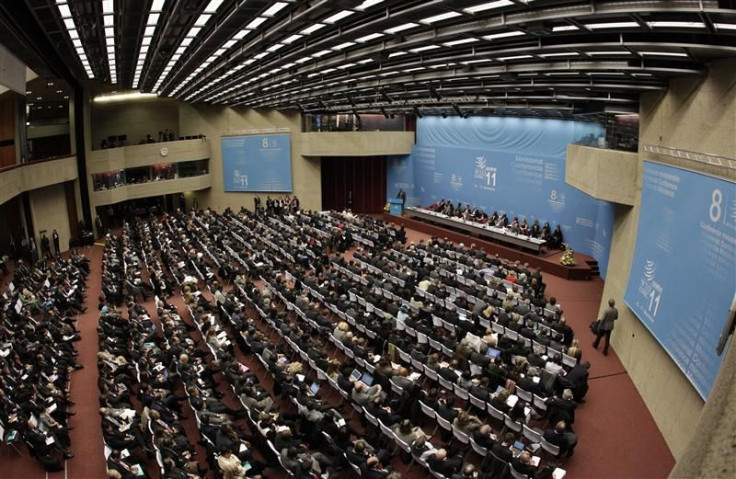 The U.S., the European Union and Japan will file a complaint with the World Trade Organization, which arbitrates international trade disputes, on Tuesday over Chinese export caps on rare earth minerals used in high-tech manufacturing, the Wall Street Journal reported.
Rare earth elements, or rare earth minerals, are a group of 17 elements including all fifteen lanthanides as well as scandium and yttrium. The U.S. has approximately 12 percent of the world's rare earth mineral reserves.
China slashed its rare earth exports by 72 percent during the second half of 2010, and further curbed exports in 2011 by 11 percent, according to a September 2011 report by the National Bureau of Asian Research (NBR). China produced 96.8 percent of rare-earth minerals globally in 2009 and is estimated to have 46.4 percent of the world's reserves.
American officials have said China's export controls on rare-earth minerals are designed to damage U.S. industry and not for the environmental reasons China has cited.
EU Trade Commissioner Karel De Gucht said Chinese restrictions on exporting the metals were hurting European manufacturers and must be removed, the Financial Times reported.
China's state-run Xinhua news agency responsded to criticism of China's rare earth export control policies by saying in a commentary the export caps have been largely to protect resources and environment.
Over the past decades, China, due to lack of a sustainable development strategy, made excessive exploitation of rare earth metals, which were sold at very low prices, and severe environmental problems occurred in many areas. Therefore, China's current policy of implementing export quota policies on rare earth is quite reasonable, the commentary continued.
An NBR study entitled Rare Earth Minerals and Commodity Resources Nationalism found that while Chinese exports of rare earth minerals increased by almost nine times from 1990 to 2008, the price had actually decreased by more than 55 percent. In recent years, the profit ratio for Chinese rare earth minerals has been as low as 1 percent to 5 percent.
Ultimately, the NBR report concludes, China's reform of its REE (rare earth elements) industry and its restrictions on REE exports are domestically driven. These changes are aimed at solving the sustainable development problem within its REE industry - resulting from disordered mining and processing, overexploitation, and environment deterioration - and are not necessarily meant to take advantage of foreign countries.
© Copyright IBTimes 2023. All rights reserved.
FOLLOW MORE IBT NEWS ON THE BELOW CHANNELS