US Military Pay: $455,000 Bonuses To Air Force Pilots?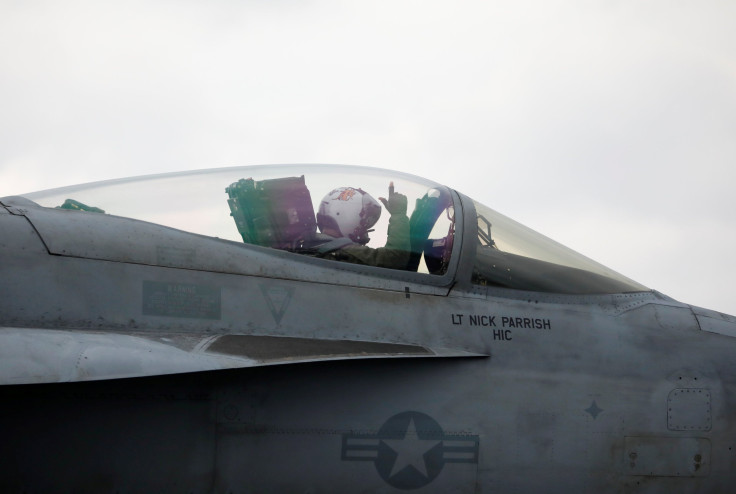 Facing a supposed personnel "crisis," a top Air Force official said Wednesday the branch could offer pilots almost half a million dollars in bonuses to retain their services and combat a worrying shortage in the nation's aircraft crews.
Lt. Gen. Gina M. Grasso, Air Force deputy chief of staff for manpower and personnel, told the House Armed Services Committee's military personnel subcommittee that it was faced with a "national aircrew crisis" for a number of reasons including how often the branch is called upon.
Read: Are U.S., Russia Preparing For War?
In 2016, according to Grasso, the Air Force faced a shortfall of 1,555 pilots, with 1,211 fighter pilots making up the bulk of that glaring statistic and costing the branch as much as $12 billion.
"Being 'always there' comes at a cost to equipment, infrastructure and most importantly, our airmen," Grasso said. "And we are now at a decision point: sustained global commitments and recent funding cuts affect capacity and capability for a full-spectrum fight against a near-peer adversary."
Grasso discussed several options for retaining pilots, like the length of contract extensions that could result in major payouts to airmen. Specifically, the Air Force could offer 13-year contracts, which would allow pilots to earn as much as $35,000 a year in bonuses alone, a jump authorized by Congress last year from $25,000. Over the entire life of the deal, a pilot could make upwards of $455,000 in bonuses.
Pilots could also be offered one or two-year contracts, unlike five or nine-year deals the Air Force had dangled before.
Read: Where Are NATO Troops Stationed?
One of the reasons for the shortage, and why Grasso had suggested the new bonus increases, came from the commercial airline industries recent hiring frenzy. In 2016, the airlines hired 4,100 pilots and the industry upped their pay by 17 percent on average.
Grasso's testimony came just weeks after the leader of the nation's biggest regional airline warned Congress that the shortage could worsen. SkyWest CEO Chip Childs said major airlines were projected to hire 18,000 pilots over the next three years, roughly the same number of pilots of regional airlines.
© Copyright IBTimes 2023. All rights reserved.