US Navy Jets Crash: Search Continues For Missing FA-18 Pilot Following Crash Over Pacific Ocean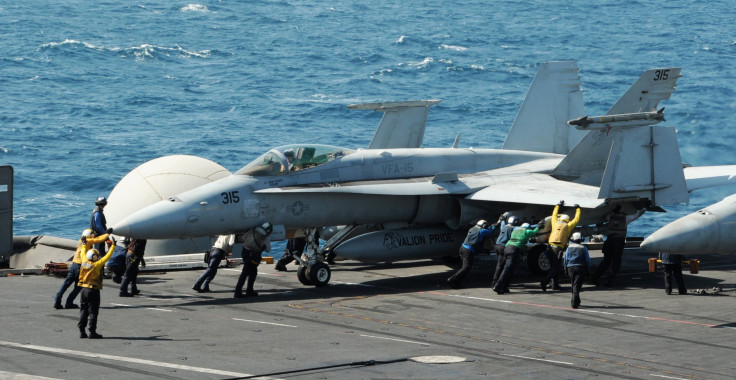 UPDATE 7 p.m.: The U.S. Navy said it found no sign of a missing F/A 18 pilot in the waters west of Wake Island and suspended its search Saturday, KGTV, San Diego, reported.
"This is an exceptionally difficult time for the friends and family of the missing pilot and the Navy community," Rear Adm. Christopher Grady said. "We are extremely grateful for the outpouring of support from the community. Our thoughts and prayers are with everyone affected by this tragedy."
Original post:
The search for a missing pilot continued into Saturday in an area of the far western Pacific Ocean after two Navy fighter jets collided and crashed on Friday, according to officials. The fighter jets -- both F/A-18C Hornets -- were reportedly from Carrier Air Wing 17, based at Naval Air Station Lemoore in California's San Joaquin Valley.
One of the pilots was rescued safely while the hunt for the second, who went missing in the waters off the U.S. territory of Wake Island, located 2,300 miles west of Honolulu, continued Saturday, authorities reportedly said. Navy Cmdr. Jeannie Groeneveld said, according to The Associated Press, that the crash occurred 290 miles west of Wake Island.
"Initial reports indicate the two jets collided," a Navy official said, according to CNN.
The official also reportedly said that the rescued pilot was in a fair condition and was being treated aboard the aircraft carrier, USS Carl Vinson. Authorities are reportedly investigating the cause of the crash, while the jets involved are yet to be recovered.
"It's certainly a challenging time for the United States Navy," Monty Ashliman, NAS Lemoore's commanding officer, said, according to Visalia Times Delta. "An all-hands effort is certainly ongoing and they're prioritizing the search for the air crew."
According to AP, the search operation involved the guided-missile cruiser USS Bunker Hill, the guided-missile destroyer USS Gridley, the USS Sperett, the USS Dewey and two helicopter squadrons.
The jets involved in the crash were assigned to Strike Fighter Squadron 94 and Strike Fighter Squadron 113.
"Our thoughts and prayers go out to all involved," Groeneveld said, according to AP.
© Copyright IBTimes 2023. All rights reserved.