US New Car Sales Set For A Record Year: Demand Is Soaring For Small SUVs Like Ford's Escape, Nissan's Rogue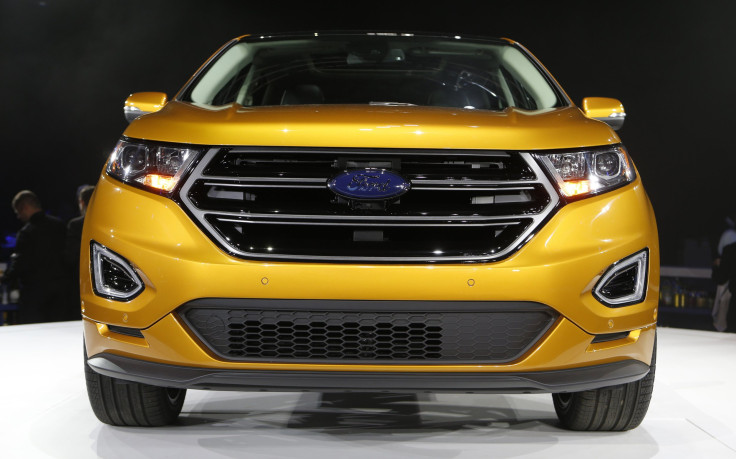 Americans spent December driving cars, trucks and utility vehicles off dealer lots in record numbers, setting the industry up for a record year for new car sales. Analysts expect 2015 to set a new high of 17.5 million units sold, led by staggering growth in demand for so-called crossover vehicles — small-engine SUVs built on sedan platforms, such as the Honda CR-V, Ford's Escape and the Nissan Rogue.
"We're beyond confident that will be an all-time best year," said Aaron Lewis, spokesman for automotive site Edmunds.com, which tracks dealership sales. The world's top automakers will announce their U.S. sales numbers on Tuesday.
If sales end the year at 17.5 million, that will beat the record set in 2000 by roughly 100,000 vehicles. And according to industry analysts, December will see about 1.7 million new cars, trucks and SUVs roll off dealership lots, up about 13 percent from the same month last year.
"December has become one of the biggest sales months of the year, helped by year-end targets and prominent holiday sales events," said Tim Fleming, analyst for Kelley Blue Book, in an email message. "As we move into the new year, expect this strength to continue, although at a slower rate than this year."
Manufacturers with newer versions of popular trucks and crossovers are ending 2015 with a bang, including Kia, Fiat Chrysler and Nissan. Those automakers have grown sales this year in the mid-single digits, according to November year-to-date sales figures, the biggest increases this year among the largest auto manufacturers.
Crossover Renaissance
Small utility vehicles might be considered boring by car-obsessive gearheads, but consumers love them and the vehicles have emerged as a major force in the industry since the start of the century, now selling at five times the rate they did in 2000. These small SUVs are selling at a pace of nearly 20 percent growth per month while demand for small and midsize sedans is falling.
"At that time the top-selling utility was the Ford Explorer, mid-sized and built on a truck platform; this year it's Honda's compact CR-V," Stacey Doyle, TrueCar's senior industry analyst, said in an email. "Consumers prefer smaller, car-based utilities."
The best-selling small SUVs this year include the ubiquitous Toyota RAV4 and Honda's CR-V. The list includes the recently redesigned Nissan Rogue, the Jeep Patriot and Hyundai's Tucson, each of which has seen more than 25 percent growth so far this year.
Meanwhile, the U.S. continues to distinguish itself from global markets in demand for full-size pickup trucks, led by Ford's F-150 and followed by GM's Silverado and Fiat Chrysler's Ram.
Cheap Borrowing Is Pushing Sales
Helping car buyers this year has been declining unemployment and gas prices hovering around 2009 levels. Another driver has been record low interest rates. Compared with the record sales year in 2000, today's unemployment rate is higher, but borrowing costs continue to hover at all-time lows.
The Federal Reserve's low-rate policy has trickled into the auto market with an unprecedented number of zero-percent offers and terms for as long as seven years. Since most new cars are purchased with financing, this has helped spur sales.
In 2011, only 1 in 10 car loans topped 73 months, but the average term hit an all-time record of 67 months in the July-September quarter, according to Experian Automotive. And zero-percent loan offers were on track for a record year in 2015 at nearly 1 in 10, according to Edmunds.com data through November.
The recent slight increase in the Fed's lending rate, to between 0.25 percent and 0.50 percent, isn't likely to impact demand for financing anytime soon.
Lacey Plache, chief economist at Edmunds.com, says if the U.S. Fed policy got it right, and the economy is healthy enough to begin swallowing slowly rising borrowing costs, then consumers are likely to continue to finance new cars. Automakers, she says, will likely want to keep offering rock-bottom financing in the coming months if not through 2016.
"As a selling tool, zero percent has been so successful and automakers are going to hold on to that as long as possible," she said. "If you're super sensitive to rate increases, then now is a good time to buy. But we'll be at low rates for a while."
Indeed, most analysts expect 2016 to be yet another year of growth, albeit at a slower pace. After that, this so-called super-cycle in U.S. new auto sales — an unprecedented seven consecutive years of growth — will likely wind down, they say.
© Copyright IBTimes 2022. All rights reserved.
FOLLOW MORE IBT NEWS ON THE BELOW CHANNELS