US Successfully Test Fires Intercontinental Ballistic Missile In California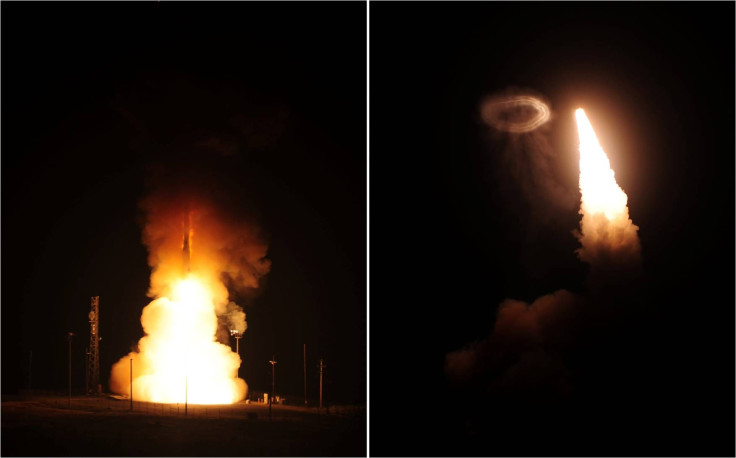 The United States successfully test fired an intercontinental ballistic missile on Monday from a facility in California, the U.S. Air Force announced in a statement. The unarmed missile was equipped with a "test re-entry vehicle" instead of a live thermonuclear warhead.
The missile, dubbed "Minuteman III," was launched at 3:36 a.m. PDT (6:36 a.m. EDT) from Vandenberg Air Force Base (AFB) in California. Monday's successful testing of the intercontinental ballistic missile (ICBM) is a "key element" of the security of the United States and its allies, the Air Force said.
"With these launches, we not only verify our processes and the ICBM weapon system, we provide a visual to the world that the Minuteman III is capable of striking pretty much anywhere with extreme precision," Lt. Col. Tytonia Moore of the 90th Missile Wing, based out of the Francis E. Warren AFB in Wyoming, said in the statement.
The Minuteman III missiles are the only land-based ICBM in service in the U.S. The country currently has 450 Minuteman III missiles in missile silos around three missile wing commands, including Malmstrom AFB in Montana, Minot AFB in North Dakota and F.E. Warren AFB, Wyoming, RT.com reported.
According to the U.S. Air Force, the "ICBM test launch program demonstrates the operational credibility of the Minuteman III and ensures the United States' ability to maintain a strong, credible nuclear deterrent as a key element of U.S. national security and the security of U.S. allies and partners."
© Copyright IBTimes 2023. All rights reserved.