US Women's Soccer Team: Americans Held To Tie By South Korea In World Cup Send-Off Game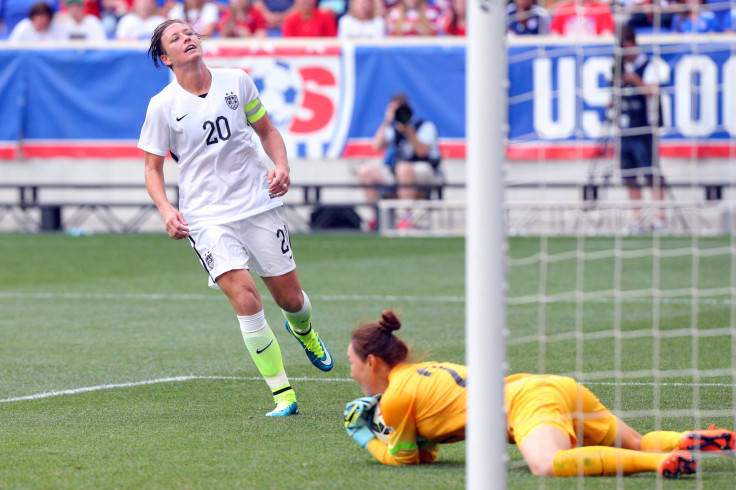 HARRISON, NJ -- The sellout crowd who came to see off the United States women's national team at Red Bull Arena on Saturday had a simple message for a side seeking its first World Cup trophy since 1999 -- "Bring it Home." That's what the U.S. will be seeking to do when it begins their campaign in Winnipeg against Australia in just nine days' time. But if Jill Ellis' team is to lift the Women's World Cup in Vancouver on July 5, there is little doubt there will have to be an improvement on Saturday's showing over the next month.
In its send-off match at the home of the New York Red Bulls against 18th-ranked South Korea, the U.S. was held to a scoreless tie through 90 minutes. While there was a morale-boosting 5-1 victory over Mexico in the team's last outing two weeks ago, the absence of star forward Alex Morgan this time was hard to ignore. The U.S. dominated possession against a South Korea team that finished fourth of the five Asian qualifiers who will be in Canada next month, but struggled throughout to seriously threaten their opponents' net. Morgan, who has amassed an impressive 51 goals in her 85 appearances for the national team, watched on from the sidelines for the third successive match due to a bone bruise in her left knee. And, while there has previously been a publicly voiced belief that Morgan would be ready to go once the World Cup got underway, Ellis said afterward that she would have to be eased back gently to fitness during the competition.
"We're building her," Ellis said. "Realistically she's been off for a while, so in terms of minutes that's something I think we're going to have to build through the early games to be ready. "
Given the U.S. team's struggles to create chances, though, with Sydney Leroux unable to take advantage of the two best sights of goal, it was perhaps Megan Rapinoe's absence that was felt greater. The midfielder was missing after a heavy knock to her quadriceps suffered in training.
"I think Rapinoe gives us a lot of penetration," Ellis said. "We didn't get enough penetration in the first half from [Christen] Press and [Morgan] Brian. She gives us that. I thought we could have played faster, we just allowed them to get 11 behind the ball. They took every opportunity to slow the game and it was effective for them."
With matches against Sweden, Nigeria and Australia to come in what has been dubbed the World Cup's "Group of Death," there will be little chance to ease into a competition which has dealt the U.S. plenty of heartache in recent times.
Still, it would, of course, be foolhardy to read too much into a friendly result immediately before the real business gets underway. Four years ago at the same venue, the U.S. required a late goal to beat Mexico in their final warm-up friendly before going all the way to the final of the World Cup only to be denied the trophy by Japan on penalties.
"In terms of the week we've had, just mentally some of them are perhaps already in Canada," Ellis said. "I'm just happy played a good team today, we came out of it healthy -- a lot of positives. For me in terms of serving what it needed to serve it did its purpose."
One of the biggest positives was the performance of midfielder Carli Lloyd, who showed at the age of 32 that she remains crucial to U.S. success. While too often there was a tendency to go direct to the aerial ability of Abby Wambach and pace of Leroux, Lloyd was at the heart of the team's best moves.
There can be no denying that their preparations for the World Cup have been less smooth this time around. After the short, failed tenure of Tom Sermanni Ellis has been in charge for less than 13 months and there remains a sense of a team still trying to find solutions a week ahead of the World Cup. But the only test of their progress that matters will come in nine days' time.
© Copyright IBTimes 2023. All rights reserved.