Valentine's Day 2014 Gift Ideas: Zombie Survival Kit From Man Crates; Nothing Says 'I Love You' Like A Machete And Wood
REVIEW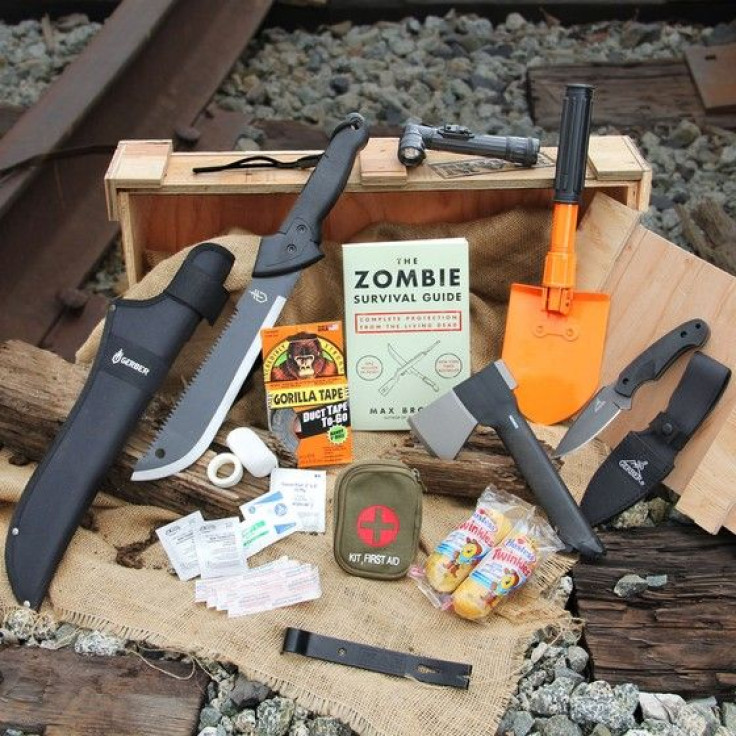 Thanks to "The Walking Dead," zombie survival kits have become all the rage. Now that they're popping up on different websites and stores in a wide range of prices, it appears that many people share the belief that it's "better to be safe than sorry."
With Valentine's Day quickly approaching (and the midseason premiere of "The Walking Dead" freshly behind us), we had the opportunity to review the "Zombie Annihilation Crate" from Man Crates … and let me tell you -- nothing says "I love you" like a machete.
The Crate
As one might suspect, Man Crates packages its kits in a wooden crate -- with a crowbar and all. And the crate's not a gag -- it's extremely well-sealed. Fortunately, one of my coworkers is from Scranton, Pa., and he was able to break that sucker open like a piñata. And while I might not have been able to crack it open myself, it was definitely amusing, and the detailed instruction manual on the Man Crates website was extremely helpful.
The Contents
Now armed with a handy pocket-size crowbar, I was able to explore the contents of the "Zombie Annihilation Crate" -- and it is a definite jaw dropper. So, what's inside? Let me break it down:
Rothco Angle Head Flashlight -- This isn't any old flashlight. The Rothco Angle Head flashlight comes in a convenient shape and with four plastic disks that can change the color of the devices' light to yellow, red, blue or green. This would be a great tool to use to signal for help. The only inconvenient part is that the compartment for the color disks can be easily confused with the opening for the batteries. Another fault is that like every electronic game you ever received as a gift, it does not come with batteries. Fortunately, it only takes two AA batteries, and in a zombie apocalypse universe, you can steal these from any useless TV remote.
First Aid Kit – Whether you're home safe and sound or in the middle of the woods, a first aid kit is always handy to have. The kit Man Crates decided to include comes in a "soldier" zip pouch from Rothco and features a "brief essentials of first aid," alcohol pads, aspirin, band aids, a gauze pad, antiseptic wipes, medical tape, sugar and a bar of soap. It's definitely a good amount of supplies to get you started as you get scraped up while on the run. But of course more serious wounds will require a supply run to a medical facility.
Gerber Outdoor Tools (Axe & Knife combo/Machete Saw) -- The "Zombie Annihilation Crate" comes with Gerber products, which means that the team at Man Crates knows what's up. Gerber is known for having durable and rust-free tools which are pretty essential to have when the s*** hits the fan.
The two tools included in the crate are the "Gator Combo Axe" and the "Gator Machete Jr." What's cool about the Combo Axe is that it comes with a knife that fits into the handle of the axe. For "Walking Dead" fans who watched the midseason premiere on Feb. 9, the axe is similar to the one that Rick used when attacking "Joe Zombie" in the restaurant. Weak from his fight with the Governor, the axe ended up getting stuck in Joe's head. Had Rick received a kit from Man Crates before the zombie apocalypse, he could have easily pulled the knife from the axe handle and jabbed it into the walker's head. Fortunately, Rick had Carl with him to take care of the situation before things got too sticky.
Gator's machete reminds me a lot of Michonne's katana. There is no doubt that this is a serious weapon, and fortunately it comes with a sheath so you don't end up accidentally stabbing a fellow survivor when it's not in use. Besides the fine-edge blade, the machete also features a saw blade (which would have come in handy for the Governor when he was trying to take off Hershel's head). It's light-weight, a decent size to throw into a bag when you're on the run, and it features a non-slip grip … which is great when you have to deal with some serious zombie bloodshed.
Gorilla Tape To-Go -- What happens if you get handcuffed to a roof and have to saw your arm off and create a fake arm with a bayonet attached to it? Man Crates knows that you have to be prepared for every situation, which is why they decided to throw in "Gorilla Tape To-Go." Many folks are familiar with Gorilla glue, and this tape version is basically the strongest and stickiest duct tape on the market. It sticks to "most" surfaces and is bound to come in handy when you're on the run from walkers.
Gerber Gorge Folding Shovel -- During a zombie apocalypse you have to pack light -- but that doesn't mean leaving supplies behind. The Gerber Gorge Folding Shovel is a good example of this. Shovels are handy but difficult to hold onto when you're constantly on the move. This shovel is small and easy to throw in a bag. Unfortunately the size does not make it practical for burying bodies -- but it's perfect if you want to go all farmer Rick.
Rothco Paracord Knife And Fire Starter -- While a fire may draw walkers, it's also important to keep warm and cook food. The Rothco Paracord knife is a handy small blade that comes with a fire starter. And even though it sounds convenient, I personally couldn't figure out how to get a spark. Definitely search for a how-to video before the apocalypse.
Spam – You got to eat in order to survive! The photo online shows that the kit includes Twinkies (for "Zombieland" lovers), but Man Crates has since switched to the beloved canned ham. Is it good? No -- but it's better than eating cat food.
"The Zombie Survival Guide" – Last but not least, the Man Crates "Zombie Annihilation Crate" includes Max Brooks' (the author of "World War Z") "The Zombie Survival Guide: Complete Protection from the Living Dead." No matter how many zombie shows or movies you watch, the zombie apocalypse is still going to catch you off guard. With Brooks' book you'll have a fighting chance to pull through when chaos hits.
The "Zombie Annihilation Crate" from Man Crates is undeniably a unique and unusual gift that your loved one will not forget. As for whether it's useful? Some continue to doubt that the zombie apocalypse is coming, however I think it's important to note that another attack happened in Florida earlier this month. If you don't want to use it for the zombie apocalypse it's still handy for the outdoorsy type.
So, if your boyfriend, husband, brother, dad, or someone special is your zombie lover and you're completely stumped about what to get them for Valentine's Day, it's definitely a better (and hilariously fun) alternative to the usual gift suspects (i.e., slippers, tie holders, new cologne, a book he's not going to read). On top of that, everything from Man Crates is PURE MAN. No wrapping paper, no ribbon -- just wood … and some (manly green) tissue paper at the bottom of the crate.
Man Crates' zombie gifts range from $99.99 to $179.99. You can find the "Zombie Annihilation Crate" from Man Crates HERE, or you can check out some of the other crates they have to offer by clicking HERE.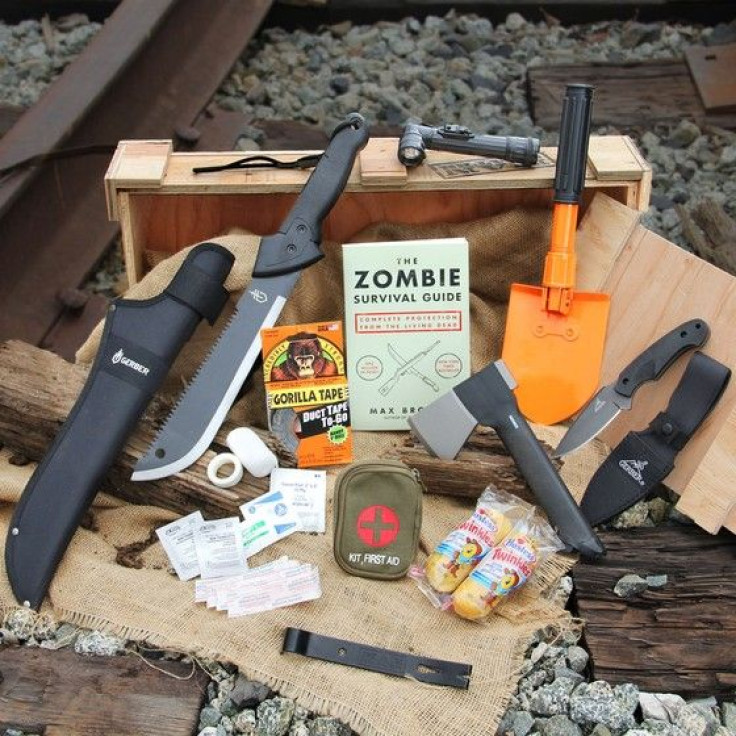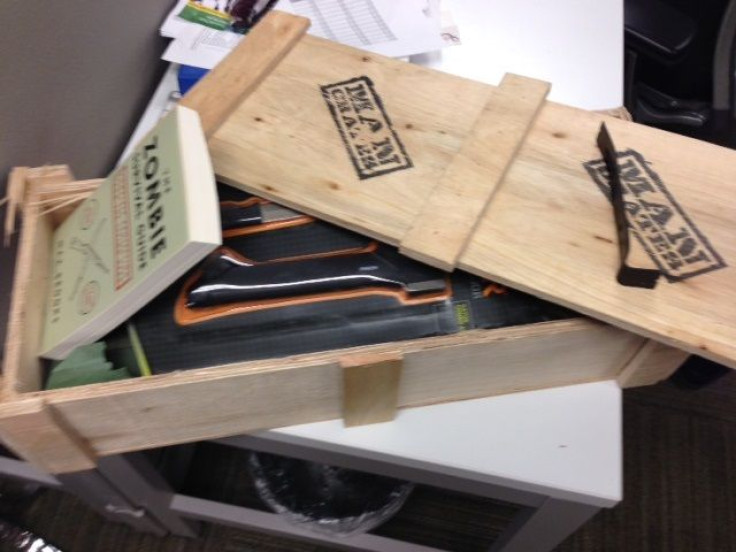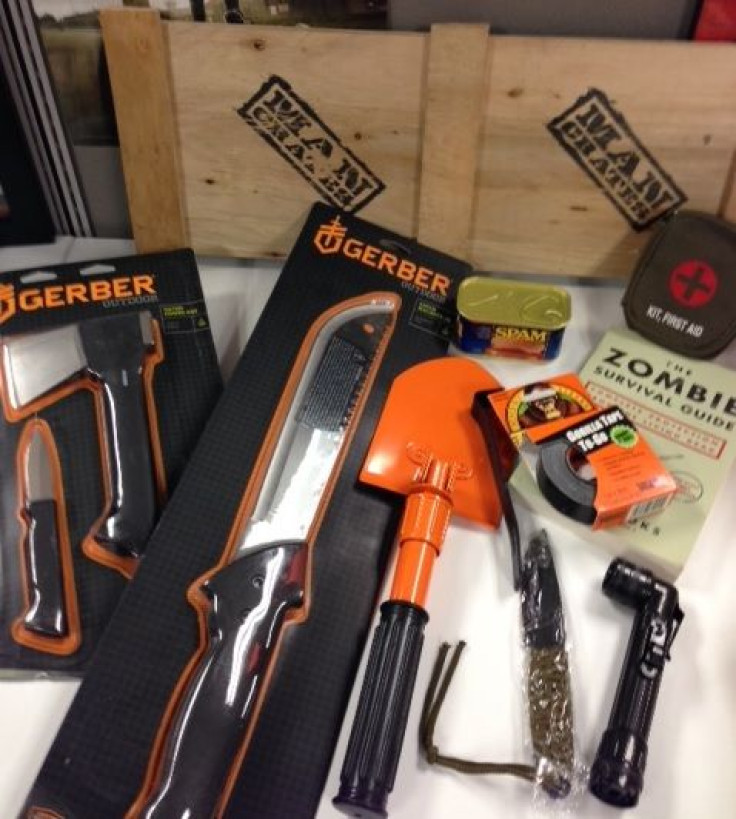 © Copyright IBTimes 2023. All rights reserved.