'Vampire Diaries' Season 7 Promo Photo Teases 'Heartbreak' For Damon After Loss Of Elena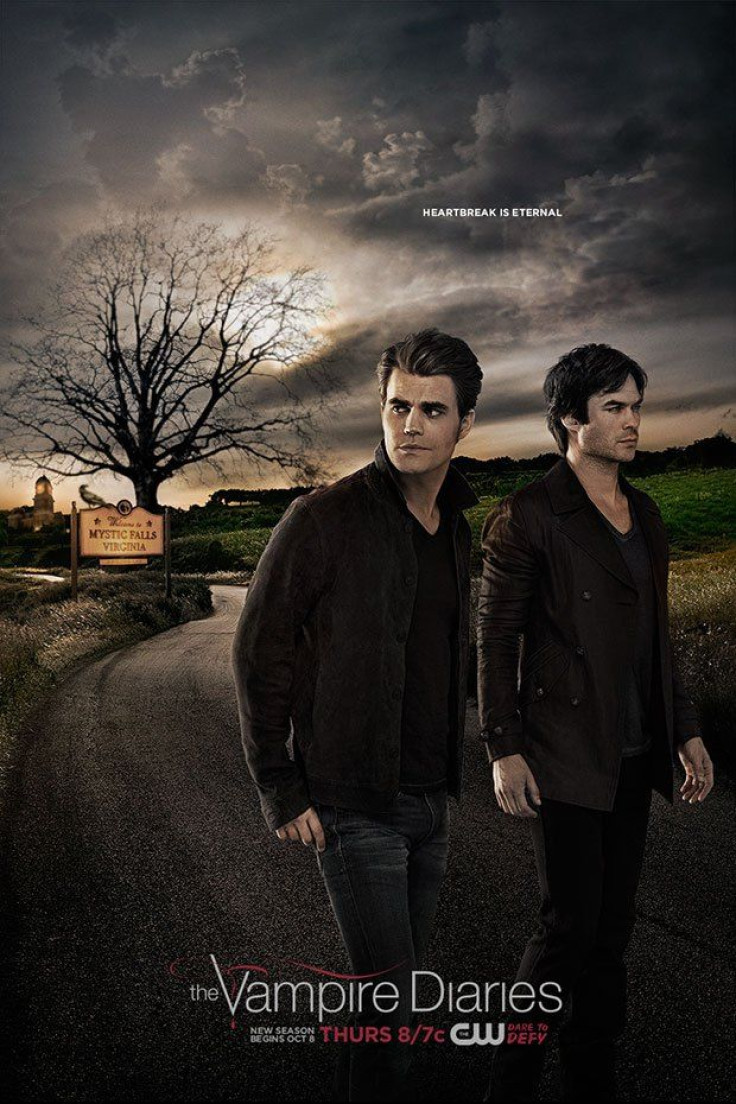 Stock up on tissues because Season 7 of "The Vampire Diaries" is bringing all the feels. Following the loss of Elena (Nina Dobrev) in the Season 6 finale, Damon (Ian Somerhalder) is going to be feeling a rollercoaster of emotions. First stop? Heartbreak city.
Fans of the hit CW supernatural drama already know that Damon will be suffering after Kai (Chris Wood) cast a sleeping spell on Elena. However, a brand new promo poster for the upcoming season hints at his upcoming battle to get over his love. The photo shows Damon with his brother, Stefan (Paul Wesley) walking away from Mystic Falls. "Heartbreak is eternal," reads the caption for the image.
Executive producer Julie Plec revealed to PopSugar in July that when the series returns, Damon will be on a "binge-drinking tour" in Europe to help him move on. But the eldest Salvatore will not be drowning his sorrows alone. Bonnie (Kat Graham) and Alaric (Matt Davis) will be right beside him. Drunk, sad Damon doesn't mean his dangerous side is gone though. Expect the bad boy to return to his deadly roots.
"The fundamental romance has hit the biggest roadblock of all-time in the form of a six to seven-decade coma," Plec told the Hollywood Reporter. "But there's something beautiful in the poetry of that. Damon's wild spirit and having to keep himself tame to wait for the girl -- which of course that [wild spirit] is the Damon we met in Season 1 -- he was waiting for the girl."
As for Stefan? Caroline (Candice Accola) made it clear she wasn't looking for a relationship with him at the end of Season 6, but Stefan promised he'd wait for her.
"He's going to be sort of the same loving guy he's been for the past six seasons," Paul Wesley told TV Line. Fingers crossed Stefan can trigger his dark side though, because a promo video makes it appear as if Caroline needs rescuing from the new big bad villains.
"The Vampire Diaries" Season 7 premieres on the CW on Thursday, Oct. 8 at 8 p.m. ET.
© Copyright IBTimes 2023. All rights reserved.