'Vampire Diaries' Season 7 Spoilers: Caroline And Stefan's Relationship Will Be An 'Epic Love Story'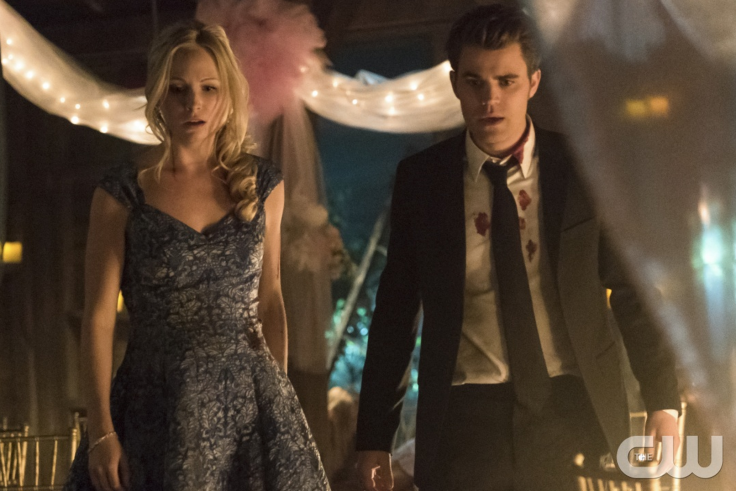 "The Vampire Diaries" Season 7 will still have a major couple at the center of the CW drama, even without Damon (Ian Somerhalder) and Elena (Nina Dobrev). It seems the focus will shift to Stefan (Paul Wesley) and Caroline (Candice Accola) in the fall.
Executive producer Caroline Dries revealed at San Diego Comic-Con that they won't get together right away. After Stefan said that he would wait for Caroline to be ready for a relationship, things might get a little weird.
"What's fun about coming and finding them in Season 7 is that feeling of, 'Where do we stand in our relationship?'" Dries told TV Equals. "Where it's like a little awkward, and they're friends, but they're not friends. They obviously like each other. So we'll be sort of exploring the newness of where they are now."
However, the writers aren't planning on drawing this out forever. Dries hopes that Caroline will be ready very soon. "Ultimately, I think hopefully, Caroline will realize that Stefan is an amazing guy, and she'd be an idiot if she kept drawing this out any longer," she said. "So obviously, there's going to be obstacles that get in their way, but that's going to be sort of the big, huge, epic love story."
At "The Vampire Diaries" SDCC panel, showrunner Julie Plec promised that the couple wouldn't be boring now that they've admitted their feelings for each other. That will only add to the fun. Stefan and Caroline's relationship will have "a lot of very unexpected twists and turns," she said, according to TV Line. "The fun of this couple is that they're just getting cemented in their romantic status. As we left it off, he said, 'I will be here when you're ready.' She's trying really, really, really hard not to be ready."
A large part of Caroline's reluctance to jump into a relationship is the trauma she has been through lately. "We're going to see Caroline struggling to accept the death of her mother," Accola told TV Fanatic. "And we're also going to see her struggling to just maintain a friendship with Stefan … but I think she finds him a little hard to resist."
Fans might get a look at how long Stefan and Caroline are going to last. Season 7 will feature flash forwards, and Accola confirmed that her character is in these glimpses of the future. "Caroline is incredibly happy in these time jumps," Accola said. That might be good news for Steroline shippers.
"The Vampire Diaries" Season 7 premieres Thursday, Oct. 8 at 9 p.m. EDT on the CW. Are you excited to see Stefan and Caroline get together or would you rather another couple had an "epic love story"? Sound off in the comments section below!
© Copyright IBTimes 2022. All rights reserved.
FOLLOW MORE IBT NEWS ON THE BELOW CHANNELS