'Vampire Diaries' Season 7 Spoilers: Why Klaus And Caroline Fans Shouldn't Get Too Excited For The 'Originals' Crossover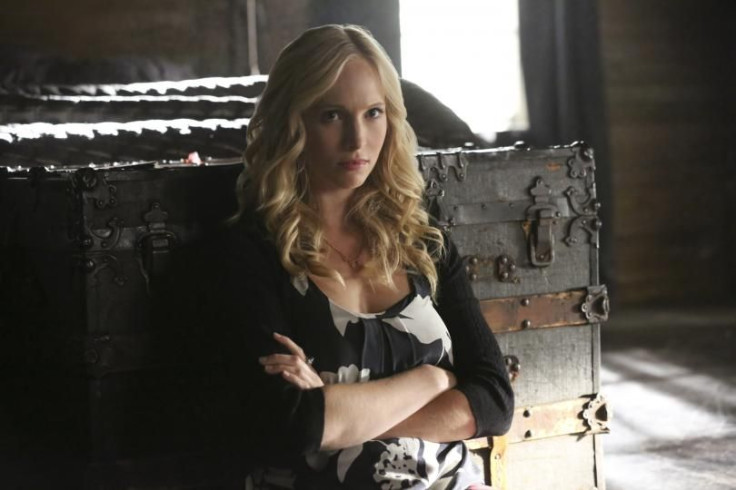 "The Vampire Diaries" fans were given even more reason to be eager for the upcoming "Originals" crossover. In episode 13, a flash-forward implied that Caroline (Candice King) was on her way to see Klaus (Joseph Morgan), but viewers might not see a reunion on the CW drama in the way they're hoping.
In the episode, Caroline tells her children they're on a road trip to Louisiana. "To New Orleans. To visit Mommy's friend," she explains. Klaus is probably one of her only friends in New Orleans, but that doesn't mean she'll see him face to face. Executive producer Julie Plec implied that they might not even be in the same room together.
"You can expect some great scenes reminiscent of Season 3 Klaus and Stefan [Paul Wesley] moments," Plec told Entertainment Weekly of the upcoming crossover event. "A surprising generosity from one Klaus Mikaelson. An awkward moment where Stefan realizes he's not sure if Klaus knows he and Caroline are a couple, and a really beautiful phone call between Klaus and Caroline."
Klaus and Caroline, or Klaroline, shippers will have to hope that Plec just happened to leave out the part where they reunite face to face in episode 14. After all, viewers have been waiting nearly three years for the vampires to see each other again. They want more than a phone call. However, even if the two do see each other in the episode, they aren't likely to jump into bed. It has been established that Caroline is engaged to Alaric (Matt Davis) in the flash-forwards.
Yet, there is always going to be hope for the two vampires. "[Tyler] is your first love," Klaus told Caroline when he left Mystic Falls. "I intend to be your last, however long it takes." With eternity ahead of them, Klaroline fans might never give up hope.
Even if Klaus doesn't see Caroline, expect him to at least talk about her. In the present-day timeline, Stefan will be the one seeking refuge in New Orleans with the Original vampire. It's hard to imagine Stefan avoiding the topic of his girlfriend the whole time. "We knew we wanted to see Joseph [Morgan] and Paul Wesley together on screen; they've had the longest history on the shows, apart from Elijah [Daniel Gillies] and Katherine [Nina Dobrev]," executive producer Caroline Dries told TVLine. "Now, they have some interesting conversation over some bourbon."
Watch a trailer for the crossover event below:
"The Vampire Diaries" Season 7 crossover with "The Originals" Season 3 airs Friday at 8 p.m. EST on The CW.
© Copyright IBTimes 2023. All rights reserved.